Why Nissan Skyline GT-R R34 Is Illegal?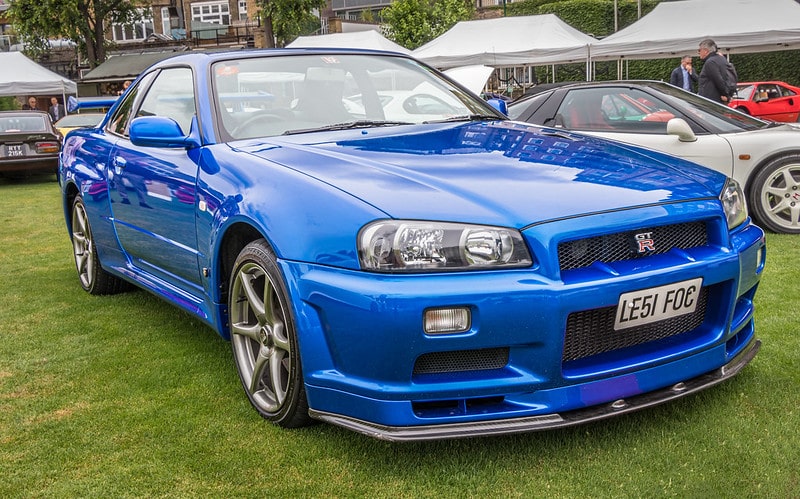 Nissan Skyline GT-R especially the R34 model is known as one of the legends for racers around the world. However, up to now, there are still many conceptions and questions about the legal status of Skyline GT-R R34 in the US. So in this article, we want to shed some light on the development process and also why Nissan Skyline GT-R R34 is illegal in the US.
A Brief About Nissan Skyline GTR R34
GTR R34 is one of the legends of street racing in Japan and around the world and was used by the late actor Paul Walker in the Fast and Furious series, it made this car more famous. Skyline GTR R34 was manufactured from 1999 to 2002 – is the cult of a decade of fierce competition against its segment rivals, making it the most powerful, technologically advanced, and luxury car on the market at that time.
Nissan R34 represents the last of the GT-R generation to bear the "Skyline" and is also the most influential model of Nissan. When comparing R34 vs R35, R35 GT-R may be faster but it was built based on the foundation of the old GTR. 
R34 GT-R 1999 is the fifth-generation sports car from the Nissan Skyline. After its launch, the R34 GT-R became popular in foreign markets thanks to its new design and technology. Skyline GT-R R34 uses a 2.6L, twin-turbo engine, for a capacity of 276 horsepower and 400 Nm of torque.
R34 is equipped with a 6-speed manual gearbox Getrag and four-wheel drive system, for the ability to accelerate from 0-100 km/h in 5.2 seconds, with a maximum speed of 250 km/h. The outstanding of the Nissan Skyline GT-R R34 over its "predecessors" comes from its short wheelbase, lightweight, impressive horsepower, and leaner body, thereby giving high performance. These days, the Skyline R34 is still considered one of the JDM legends among car enthusiasts and represents the greatest model ever built by Nissan.
Why Nissan Skyline GT-R R34 Is Illegal In The US.
Skyline R34 is considered Nissan's masterpiece. Given its outstanding power, handling, and design, it's hardly surprising that it's gained worldwide acclaim.
Unfortunately, this model is on the list of banned cars in the US. As one of the countries with the most developed car industry in the world (250 million cars are registered), Americans can buy almost any car they want. Why R34 is an exception? Let's find the truth: Why Nissan Skyline GT-R R34 is illegal in the US:
The first reason why is Skyline R34 illegal in the US is its speed. R34 has a powerful engine of about 280 BHP to 500 BHP but also can achieve an engine power of up to 1000 BHP. That means that this car can reach up to more than 250 miles per hour on the highway. While in fact that most police cars can't reach an engine power like a Skyline R34. Most police cars are rear-wheel drive while this R34 is equipped with four-wheel drive. 
Another reason why the 1999 R34 GT-R is banned in the US is that it does not fully meet the Federal Motor Vehicle Safety Standards and Regulations (FMVSS) issued in 1988 and the 25-year rule when importing vehicles in the US market. Every country has regulations that call for manufacturers to build cars to certain specifications. It plays a big role in what vehicles are sold in other countries. The US has high standards when it comes to safety and emission regulations in order to certify a vehicle to the US market. Unfortunately, R34 essentially failed some safety tests and Nissan just didn't find it economically viable to retrofit Skyline for the US market. 
According to the National Highway Traffic Safety Administration (NHTSA), most vehicles imported into the US are banned due to regulations such as: not ensuring safety requirements, driving too fast, and driving on the right. Now, due to environmental awareness, NHTSA can ban high-emission cars.
When Will The R34 Be Legal In The US?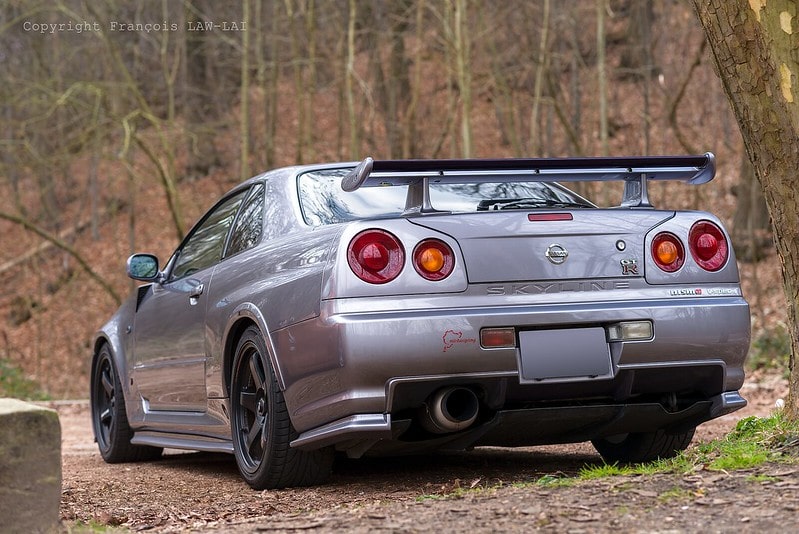 We believe that when will the R34 be legal in the US? is a very common question for many racers. It would be sad to say that: if you want to own an R34, at least you must wait until 2024 to officially drive this car.
As we know, the Skyline R34 was launched into the market between 1999 and 2002. This means the first legal deal of the Nissan Skylines R34 in the United States will take place in 2024 (following the 25-year rule for importing classic vehicles in the US). After that date has passed, the process of importing this car will be simpler.
It will be illegal for you when you drive or buy a Skyline R34 in the US at that moment. We've heard that some motorists cheated to import the Skyline R34 like: placing a fake plate to drive around the city. Although it may be tempting when you have a chance to drive your dream car, however, it's not worth exchanging your risk.
If you are caught when driving with a fake plate, you can allege legal issues. So we're only a few years away from actually being able to get our hands on them legally. Be patient is our advice for you.
And luckily, there's another option for you if you want similar cars immediately with a lot less money. You can absolutely get it legally imported R32 GTR which is the original Godzilla. Other old Skyline models may help you satisfy your racing passion. Although we know that it can be hard to replace the R34- the most legendary and iconic car in the JDM community.
Final Words
Now, you've already had the answer to the question "Is a Nissan Skyline R34 legal in the US?" Without any change, you can legally drive a Nissan Skyline R34 on the United States road in 2024. Until then, circumventing the government or smuggling one across the border is not worth it.
There will be no point If you must sit in jail while your car will be crushed if you intentionally import this vehicle illegally. We hope that through this article, you will understand the reason why Nissan Skyline GT-R34 is illegal in the US.
Popular posts
---