Top 10 Best Nissan JDM Cars Of All Time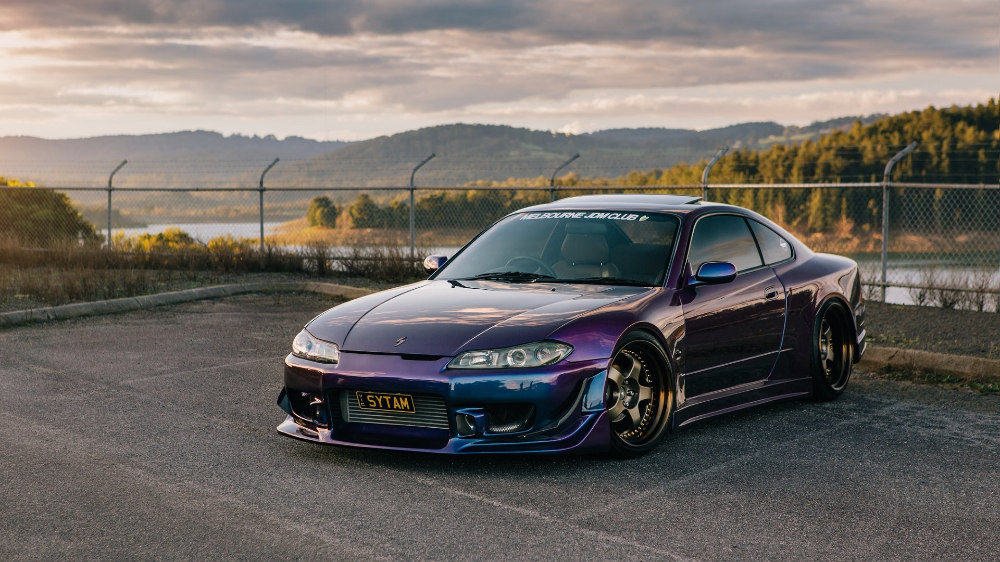 Like all Japanese brands, Nissan was known across the globe for its reliability and dependability. Japan has long dominated the top 10 most reliable brands, and Nissan along with Toyota and Honda are at the top of the bunch.
However, just having high expected reliability isn't enough to prompt many customers to buy their products. Nissan excels in styling and exterior designs as well, which has proven to be one of the most prominent reasons people choose a specific car.
Through the years, Nissan has incorporated various technological advances to up their game in all aspects: exterior, interior, infotainment systems, maneuverability, expectancy, etc. This brand has yet to let us down.
Driving a Nissan for the first time is always a wonderful experience for anyone. If you have never had a Nissan before, then now is a good time to buy one for you and your family. Here is our suggestion of the 10 best of the best Nissan JDM cars to have ever been produced.
1. Nissan Skyline
The Nissan Skyline was originally produced by Prince for ten years from 1957 to 1967 but Nissan took over the production line ever since. Due to this being a long-running series, there have already been thirteen generations of Skylines.
The Nissan GT-R R35 is now open for buying, but there is just something special about the ones that used to have Skyline engraved in their names. The original Skyline R32 GT-R was first hailed by the Australian press as the "Godzilla" as a tribute to its Japanese origins. The name wasn't an exaggeration by any means, as it was certainly the benchmark for race cars, as shown by its debut in the first Fast and Furious movie, in the hands of the late Paul Walker.
The R32 has gone down as one of the legendary cars of the late 80s, it had spectacular performance: 0-62 mph in 56 seconds and a 156-mph top speed.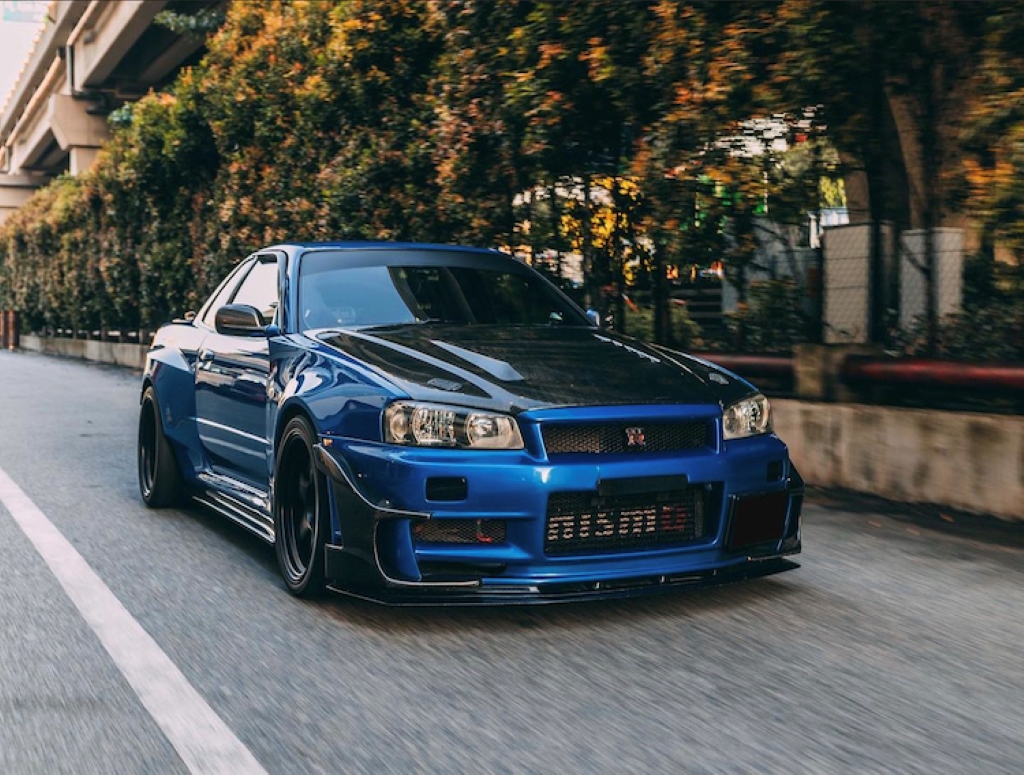 Even decades later, the current electric-gasoline hybrid GT-Rs from 2014 onwards will leave any one of your friends in awe. Like one of my favorite car show hosts, Jeremy Clarkson once wrote: "You may drool all you like over the latest Lamborghini or the hottest Aston, but the Nissan was always capable of tying them in knots."
2. Nissan Silvia
The Nissan Silvia is another series of sports coupé that I want to introduce to this list of best Nissan JDM cars. The Nissan Silvia has been produced in two periods: from 1965 to 1968 and from 1975 to 2002. Nissan has been through seven generations with this coupe.
This car was particularly famous for its drifting abilities, most notably the S-chassis drift car and time-attack car (series S13 to S15). Its success was such that 7 drivers managed to snatch the win at 10 D1 grand prix championships from 2001 to 2020. It is also very popular with American and European drifters.
The most recent Silvias were the S15 200SX, with a powerful engine ranging from 121-184kW, 165-250hp, 162-247bhp. This car has a top speed of 146mph and can accelerate from 0-100km/h within 7.5 seconds. It is truly a beast of a car that stood among the legends in drifting history.
>> See more: What Is The Meaning Behind Nissan Logo?
3. Nissan Fairlady Z
The Nissan Z is a series of sports cars that were manufactured across seven generations since 1969 and is still on the run. Fairlady Z was the name originally given to the Z cars. As an export product, it used to go with the name Datsun 240Z. After that, it repeatedly changed names, as of the current generation, the name got shortened to just Nissan Z.
The most notable feature of the original Fairlady was the straight-six engine. However, the latest Fairlady Zs are rather similar to the U.S.'s 370Z, with a notable difference being the more powerful VQ37VHR 3.7L V6 engine guaranteeing better performance.
The Fairlady also introduced the world to the first-ever six-speed manual transmission with synchronized rev control and a seven-speed automatic transmission with a manual shift mode. Due to the amount of horsepower, transmission, and suspension, the 2009 Fairlady Z was quite the spectacle in acceleration, cornering, and stopping.
4. Nissan 180SX
The Nissan 180SX was a car based on the Nissan S platform, which was a rear-wheel-drive sports automobile platform. Manufactured from 1988 to 1998, the 180SX came in three generations. Outside of Japan, its name changed to 200SX and 240SX in America. Most would suggest that the Nissan 180SX was great value for money. Despite its looks, it certainly is very fast.
Here we present yet another compact sports car that is suitable for spirited driving, track racing, off-roading etc. You can get a good start off the line with this car, coupled with its drifting abilities around the corner, it is certainly a rare breed of car.
It might just be one of the best buys for those wanting to experience JDMs for the first time. From the second generation onwards, the Nissan 180SX's engine was a 2.0L SR20DET with 205 PS. There were options of five-speed manual and four-speed automatic transmission.
>> See more: The 15 Most Popular JDM Car Models
5. Nissan Bluebird
Nissan once again rocks the compact-automobile segment with the Nissan Bluebird. Manufactured from 1955 to 2001, this car had been through a lot of remodeling work. Produced by the DAT corporation, the first Bluebirds were named "Datsun" (son of DAT).
For the last series U14, they reverted from the four-door hardtop design back to the boxy type design you are most probably familiar with whenever someone mentions a formal Japanese sedan. The Nissan U13 and U14 both currently have groups of dedicated followers.
The U13 had the option of 1.6L, 1.8L, 2.0L engines. The best thing about the U13 SSS is that it provided secure handling motions, and the four-cylinder engine just made driving even a used model a privilege.
6. Nissan Cedric
This is definitely one of the most reliable cars you can find on the used market right now. Even the internet agrees with me on this one. This beast of a car had been on the assembly line since 1960 and Nissan decided to stop manufacturing in 2004, after going through 10 generations.
The cool thing about this Cedric name is that it came straight out of fiction written by Frances Hodgson Burnett. I would say such an exquisite design was exclusively made for Cedric. Once you could choose either a four-door hardtop, sedan, or even a 5-door wagon/van.
The 10th generation Y34 saw a huge change in design choice and offered three different V-6 engine capacities. This car was once very recognizable as a police vehicle featured in movies.
7. Nissan President
The Nissan President is a series of luxury sedans produced by Nissan from 1965 to 2010. There were only three generations of Nissan Presidents which included only a few models. As the name suggests, the President was primarily used by government officials and corporate executives.
The latest generation of President is powered by the 4.5 L V8 engine and a five-speed automatic transmission, retaining its position as the flagship model of the Nissan lineup. Curiously, there were two versions of seating options: four-passenger and five-passengers, with four-passenger-seated models being the more expensive of the two.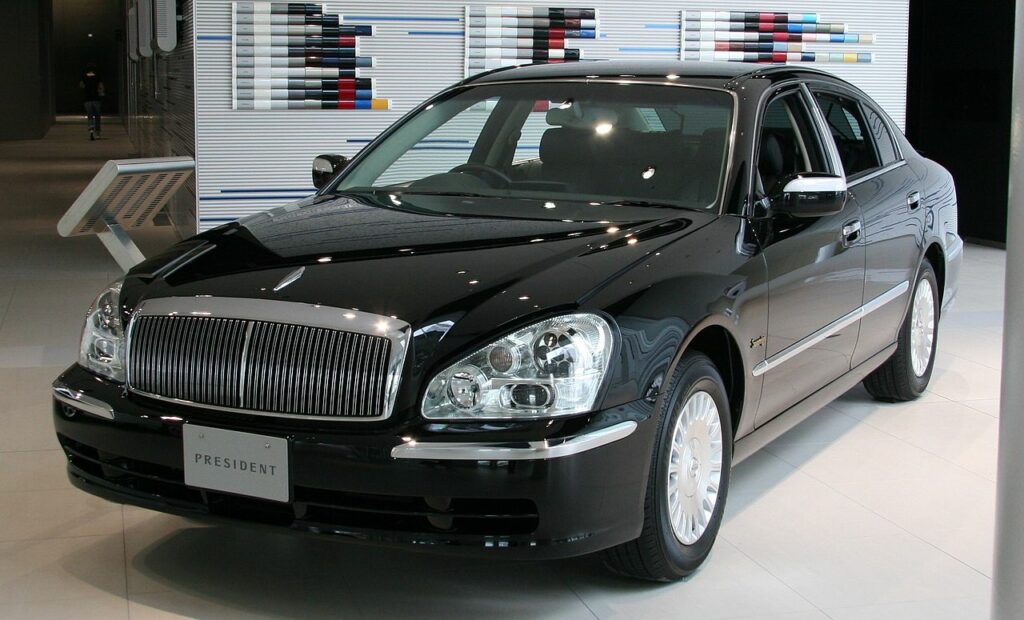 The same with Toyota Century, Nissan President was announced to be discontinued as the lackluster sales weren't enough to reimburse the company's line of production.
>> Check out: Top 15 Best Toyota JDM Cars Of All Time
8. Nissan PAO
This retro-style vehicle lasted only 3 years from 1989 to 1991. As with many of the pike cars models on this list, you can only find one of these at the Nissan Cherry Stores in Japan. A pike car is called the way it is due to being manufactured at Nissan's Pike factories. What makes them so special in the eyes of the fans?
Nissan's best designers worked on innovating their products to give them a modern touch while maintaining the nostalgic look. The name "Pike" was inspired by the medieval spear in hopes of spearheading the waves of cutting-edge products in the automobile industry. The "Pike cars" consisted of: Nissan Figaro, Nissan Pao, Be-1, S-Cargo.
Notable features of the Pao include the split tailgate, circular rear lamps, corrugated body panels, etc. Its performance might be a letdown for some. However, it is just what I was expecting out of a car with its unprecedented style.
You can choose the three-speed automatic or five-speed manual, but the 1.0L engine remains the same either way, producing just around 50bhp.
9. Nissan Figaro
Nissan Figaro was produced exclusively in the year 1991 and there were over 20000 sold. Quite a figure, right? The Nissan Figaro was called one of the Nissan's "Pike cars", hailed as "the height of postmodernism" by the New York Times' design critic Phil Patton. One of the characters in Doctor Who used this car in one of the spin-offs. Its unabashed retrospective look gained a cult following for its eccentricity.
The Nissan Figaro donned a turbocharged 1.0L four-cylinder petrol engine, it greatly resembles today's superminis. This amount of gasoline is tight, but you will get used to it in no time. If you have been a loyal buyer of Nissan or one of its avid followers, then this car should stand out as one of the weirder cars that didn't really look like a conventional Nissan. The Nissan Figaro can reach a top speed of 100mph with a three-speed gearbox.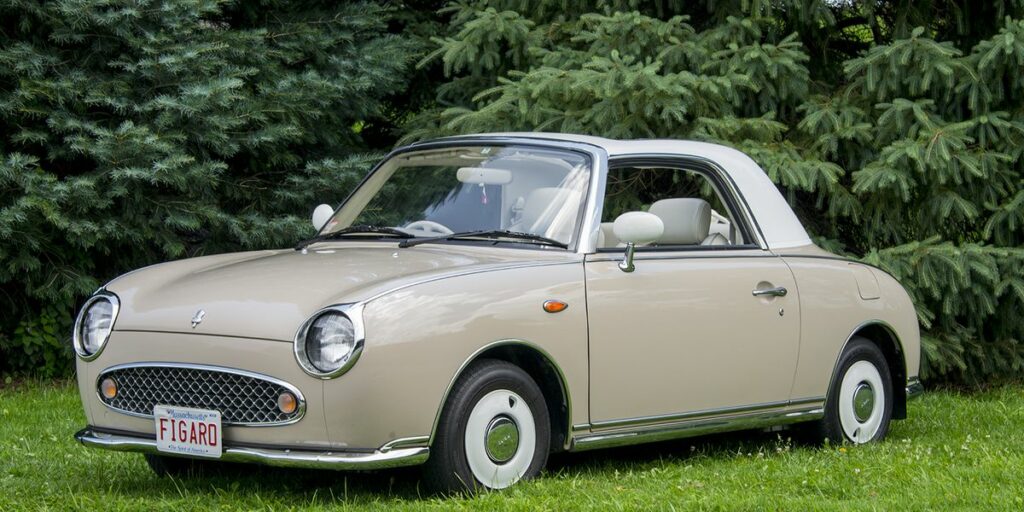 10. Nissan Laurel
The Nissan Laurel was manufactured by Nissan from 1969 to 2002, across eight generations. Not purely a JDM vehicle, the Laurel was marketed in various Asian and European countries as a Datsun vehicle, but the export came to a halt in 1989.
It is a reliable, comfortable hardtop sedan with an engine similar to the R32 Skyline in the engine department (4- to 6-cylinder, 2L capacity, Diesel tagging from the 70s onwards). The only odd one out (and the only major change) in its engine occurred in the 5th generation, during which Nissan decided to switch to a V6 engine (2L to 3L capacity). They quickly came back to their senses and reverted to a straight-six engine throughout the later generations.
The six-generation of Nissan Laurel was, unfortunately, the last series of vehicles that were dubbed the last "true hardtops". Considering the superior comfort that hardtop cars brought their drivers, it was quite a loss for some of us.
Although you won't be getting any JDMs freshly out of the box, you can still buy one of these used JDM cars to your liking, though. I get it, not everyone is willing to use a secondhand car, but it is best practice not to underestimate the beauty of JDM cars, as Japanese brands like Nissan are always coming up with something new that will blow your mind.
Buy one at the nearest used car dealers (decide for yourself which car is the one beforehand), take it out for a ride, show your friends and family, post a Facebook story…
Nissan cars and JDM cars as a whole are never out of the picture in the world automobile map, even more so than many western superpowers, all for good reasons. You might even be praised for your great taste in cars!
Popular posts
---