What Engine Does A R34 GTR Have?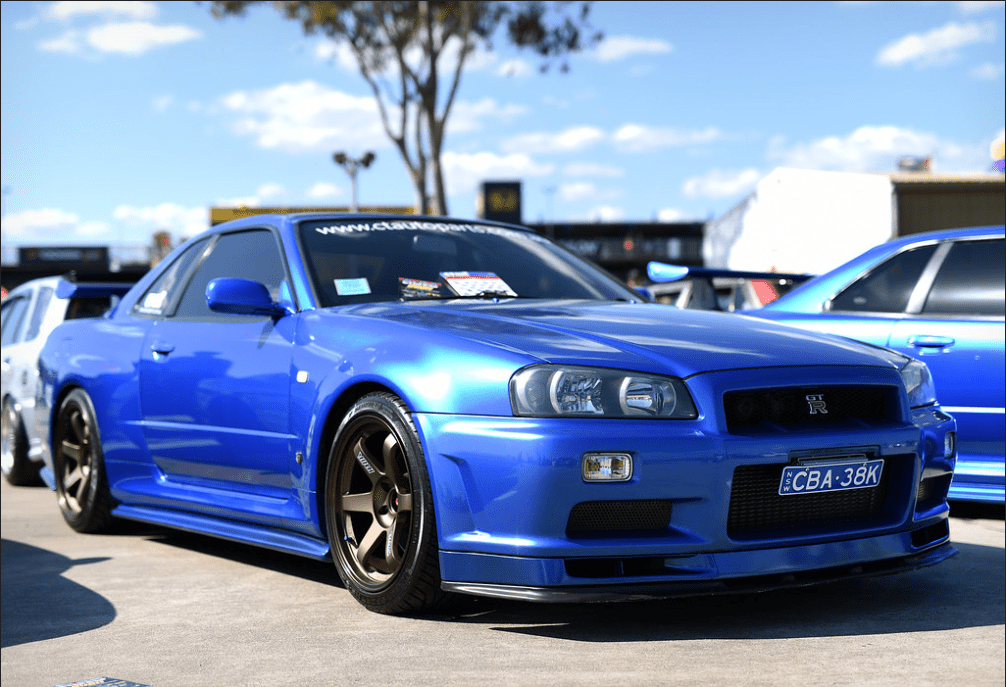 If you ask any car enthusiast about What's your favorite Nissan Skyline GT-R? They will likely tell you about R34.
In the first stage, the Skyline GT-R might have appeared from humble beginnings, but fast forward to 1999 and 2002, we found the R34, the release of Skyline R34 wrote the history of Nissan Skyline GTR.
What made the R34 become special compared to other versions? We must say that it's an R34 engine so what engine does a R34 GTR have? Everything will be answered in this article:
A Walk Around The Legendary Nissan Skyline R34
Nissan Skyline R34 is a front-engine, rear-wheel-drive, or all-wheel-drive car that was released in 1999 and ceased production in 2002. Worthy of the title of being a legendary car of the JDM community, Skyline R34 is built with an intelligent all-wheel drive system combined with a limited-slip rear differential (LSD), which allows an R34 to accelerate smoothly when cornering.
A breakthrough new piece of equipment in this generation is a 5.8-inch LCD multifunction screen located in the center of the dashboard that displays statistics and information from the engine. Information such as G-force, pressure, throttle position, and speed at each individual wheel is fed into the computer. If traction is lost, the computer intervenes, transmitting torque to the appropriate wheels. Compared to modern models these days, these technologies can sound par, but in the 90s, Skyline R34 was really a pioneer.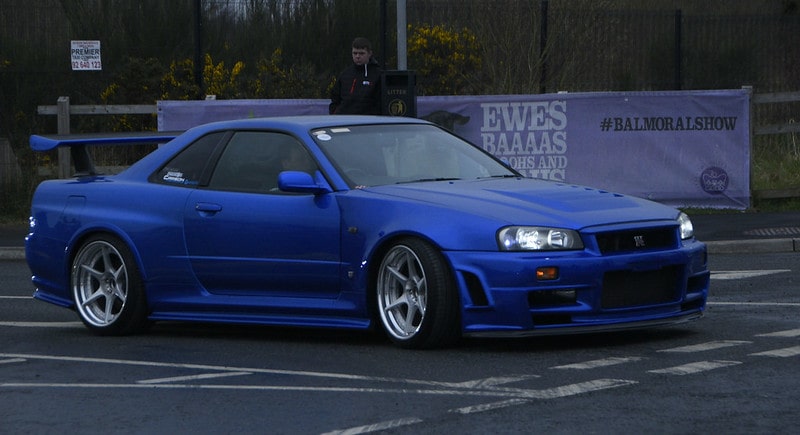 The interior of the Skyline R34 may not be as good as the other competitors, but it is somewhat offset by reinforced sports seats. At this stage, Nissan Skyline R34 wants to target the rival Porsche 959. At this point, Skyline R34 is compared with "compatriots" rivals such as Subaru Impreza 22B (1998 – 1999), Impreza WRX Sti (G2) (2001 – 2007), or Mitsubishi Evo VIII (2002 – 2005).
In fact, many drivers would argue that an R34 was more advanced than any Ferrari or Lamborghini in the 90s. Do you know how quick the R34 really is? An R34 can get to 60 miles an hour in just under 5 seconds (about 3,9 seconds or 2,8 seconds).
All these features make Skyline R34 worthy of legendary status. To create this legendary car, Nissan engineers had to invest in many details and parts to create this perfect machine. And in that, it is impossible not to mention the R34 engine. R34 is considered one of the versions with the most powerful engine block in the Skyline line. So what engine is in a Nissan Skyline GTR R34?
What Engine Does A R34 GTR Have?
It can say that Nissan has always been a pioneer in building a wide range of high-performance engines to give drivers the most capacity cars. Not only powerful from the manufacturer but these engines can also be upgraded with high capacity. Some impressive engine blocks of Nissan cars can be mentioned: VR38DETT, CA18DET, SR20DET, or VQ35DE. And in this list, we cannot ignore a powerful engine block – RB26DETT.
This engine block is used on sports cars such as R32, R33, and R34 Skyline GT-R. Now, you have the answer to the question about the Nissan R34 Skyline engine, it's RB26DETT. From the factory, this powerful 2.6-liter engine can own a maximum capacity of up to 276 horsepower and maximum torque of 391 Nm. It has an independent throttle and twin turbocharger system with twin turbos installed in the line. The upgrade of this motor is almost the same as the RB25DET engine.
The most basic versions were offered with naturally aspirated engines of 2 or 2,5 liters of displacement, producing 155 or 200 hp respectively. The most interesting model for drifting is the GT-R, its twin-turbo with a rear-wheel drive from the factory. The Skyline R34 used a 2,6 liter straight-six RB26DETT engine.
The power is fed through a six-speed manual transmission and into a limited-slip differential. This engine package produced a 280HP from the factory and there is proven to have a power potential of up to 400hp with just bolt-on modifications. As standard, there's plenty of power to hone your skill plus the potential is there if you want to up the power.
Is The RB26DETT And RB25DET Engine Block The Same?
Many drivers are often confused between 2 motors: RB25 and RB26, are they the same? In this part, we will satisfy readers who prefer the Nissan RB series, and let's take a closer look at the difference between RB26DETT and RB25DET engine blocks. It can be asserted that the difference between R25 and R26 is merely based on power and torque capacity. How about the other upgrades? Improvements in mechanical, electrical, and technical.
Both of these engines are proven to have incredible power. Engineers have improved turbocharged variants to improve engine performance, but let's discuss in more detail some aspects of two engines like Built-in, upgrades, reliability, and more.
Nissan RB25DET engine
Some parameters you need to know about this type of engine:
Production: 1991-2001
Engine volume: 2498 cc
Valvetrain: Twin cam
Power: 250 HP
Torque: 320 Nm
Compression ratio: 9:1
This 2.5-liter six-cylinder engine is capable of producing a maximum capacity of 250 hp and 320 Nm of torque. Nissan exclusively equips this engine for the R33 Skyline GTS-25t models. Like the previous generation engine RB20, the body of this engine is still made of cast iron with a larger diameter of 86 mm of the cylinder bore, piston stroke of 71.7 mm, and a compression index of 8.5, along with new pistons and connecting rods. The cylinder head was created from Aluminum that has four valves per cylinder – two for both intake and exhaust and two camshafts.
Some RB25 models (prior to 1993) were not built with the variable valve timing system (NVCS) – to which the RB25DE engine also belongs. The injectors are located on the hood and the turbocharger is larger. The RB25DET engine can easily be upgraded to around 450HP thanks to changes to the turbocharger, ECU tweaks, fuel system, and exhaust.
Nissan RB26DETT engine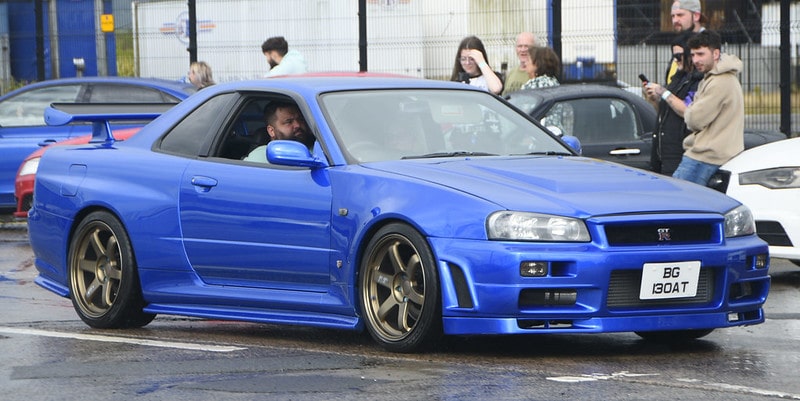 Production: 1989-2002
Engine volume: 2568cc
Bore/Stroke: 86 x 73,7
Valvetrain: twin cam
Power: 276 HP
Torque: 391 Nm
Compression ratio: 8,5:1
The RB26DETT was said to be the king of the RB series and that's not just because it was featured in the R32, R33, and R34 Skyline GT-R, most notably its use of a twin-turbo setup from the factory. It is also a feature that helps us distinguish between Nissan Skyline GT-R R34 and R35
Unlike the RB25DET engine, the cylinder block of the RB26DETT engine is made of cast iron but does not have an oil port. The pistons of the RB26 engine are installed that are lower than 1 mm and they are linked by an RB25DET NEO connecting rod.
The block is covered by a DOHC 24-valve aluminum alloy head with four valves per cylinder – no VCT variable valve timing system. For the RB 26 engine, Nissan made some aesthetic modifications and tweaked the ECU. So in the Skyline R34, it used a Garrett M24 T28 turbocharger whose ball bearing is separate from typical bearing turbochargers.
It can see that although the RB26 owns a higher power capacity than that of the RB25 motors, they can adjust each motor on its own to achieve a higher power performance.
Conclusion
As we knew, the Skyline R33 is already a good racing coupe, the R34 is more than that. The RB26DETT engine on the R34 is better than the older version R33, it gives a capacity of 276 horsepower at 6,800 rpm.
And yet, twin turbochargers – intercoolers – have been fitted to eliminate the "turbo-lag" that comes with all-wheel drive (AWD) and the box. With these features, Skyline R34 deserves to become a masterpiece machine of the Nissan GT-R. Hopefully, you will find all of this information useful for you!
Popular posts
---