10 Most Beautiful Japanese Cars Ever Made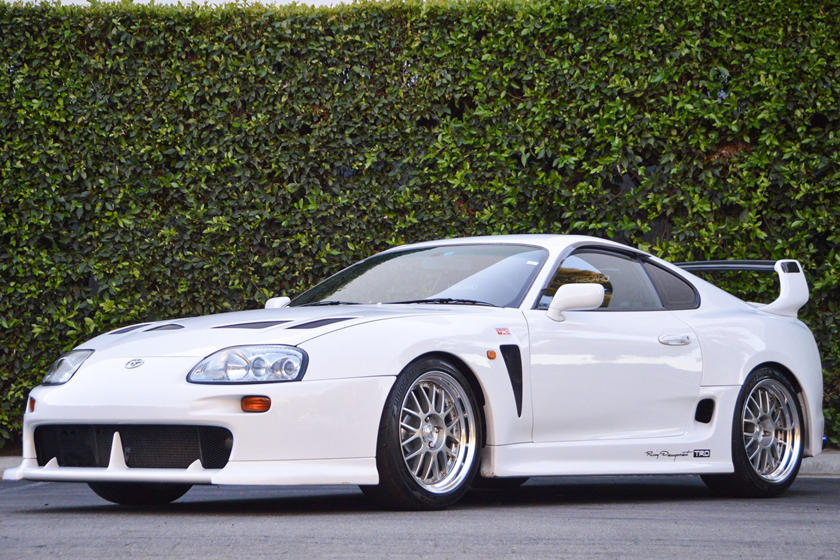 Cars from the land of cherry blossoms are often known for their practicality, flexibility, and ability to withstand the test of time. They are famous for their strong-built for all those time. But do you notice that some of the most beautiful Japanese cars have also made a lot of noise in the world market and left thousands of unforgettable feelings in the hearts of car lovers?
If you want to learn more about the beautiful children of big fellows in the industry, follow along with JDM Export right now.
Top 10 Beautiful Japanese Cars: Filling Your Eyes With The Flower Blossom
Going through hard times, experiencing ups and downs, Japanese cars have always been one of the biggest pride of car lovers around the world. The imprints that cars in Japanese history have left behind are too great, and their beauty cannot diminish with time.
1. Mazda Cosmo Sport
Mazda has built many impressive models over the years, but few are as gorgeous as Cosmo. The Cosmo did mark its uniqueness in many ways into the auto industry with a stunning futuristic design that everyone will love at first sight.
The original Cosmo was a full-size coupe. This model was considered Mazda's flagship model for the years 1967-1996 when the fourth and final Cosmo (under the Eunos brand in Japan) was produced.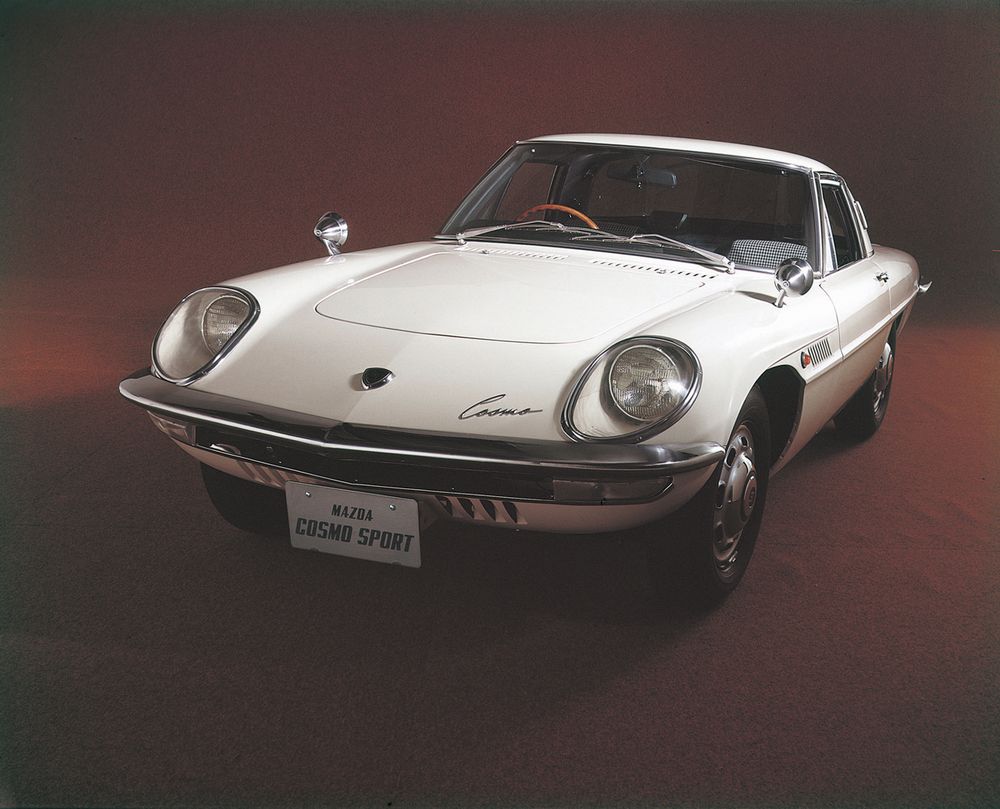 The car's 1-liter twin-rotor engine has no pistons but a hollow barrel with triangular rotors rotating inside, which can produce only 110 hp and 131 Nm of torque.
In addition to the excellent performance and speed, the Cosmo also impresses with its interior design and equipped amenities. From electric radio with deep-bass Clarion speakers to convenient map-reading lights on the dashboard, everything on the car feels like a dream from decades ago.
With a body full of charm, combined with an eye-catching interior and responsive driving feel, car lovers who have driven this once-in-a-lifetime Cosmo Sport still give it unrelenting and sincere praises for decades till now.
2. Acura NSX
Featuring the JDM car aesthetic of the 20th century, even if you look at it today, the 1991 Acura NSX can still bring up a bizarre attraction because of its sporty, naked appearance representing a powerful Japanese warrior style.
Acura NSX, the first supercar model of the Japanese automaker – Honda, was developed to compete with big names in the world as Porsche 911 and Ferrari 348. This model was designed based on the concept of 1984 HP-X (Honda Pininfarina eXperimental).
With the NSX, Honda – a company with no tradition of making sports cars, surprised the whole world by creating a cheap and easy-to-drive model that could beat fierce rivals from the West.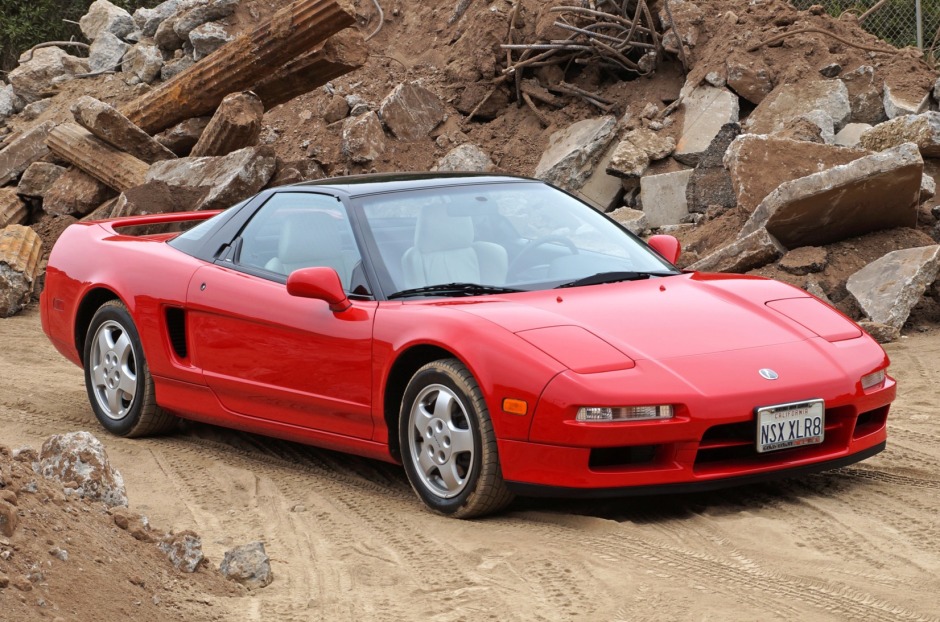 The 1991 Acura NSX possesses strong, sharp, and unique design features with an aluminum body structure. The eye-catching headlight cluster has the typical beauty of 20th-century supercars that can optimize the car's aerodynamic abilities when not in use.
For the interior space, the NSX's cockpit is inspired by F1 racing cars and the US Air Force's F-16 Falcon fighter jet with a simple but bold design, promising good visibility at all riding angles.
In addition, details such as a three-spoke steering wheel wrapped in carbon leather, a 6-speed manual gearshift lever, an analog speedometer are all standard equipment of this futuristic 1991 automobile.
Under the hood, Acura NSX 1991 owns a 3.2L DOHC V6 engine combined with VTEC technology developed by Honda in the 1980s.
This car is a model with a bold stamp from Honda, a model that offers a pleasant driving experience, and is pretty well-worth a look.
3. Honda S2000
After proving that they could create a world-class supercar with the NSX, Honda engineers continued to stunt the world with another classic – the S2000. The S2000 was an instant hit, loved by many thanks to its mid-mounted rear-wheel-drive layout.
Needless to say, the Honda model, produced for the first time in 1999 is one of the best-looking roadsters ever made in Japan. And this convertible sports car, with an attractive design, was once the pride of Honda.
The first thing to notice is that the headlights of the Honda S2000 are very stylish and stand out so much, designed only for drivers who want to experience the feeling of "fun" behind the wheel.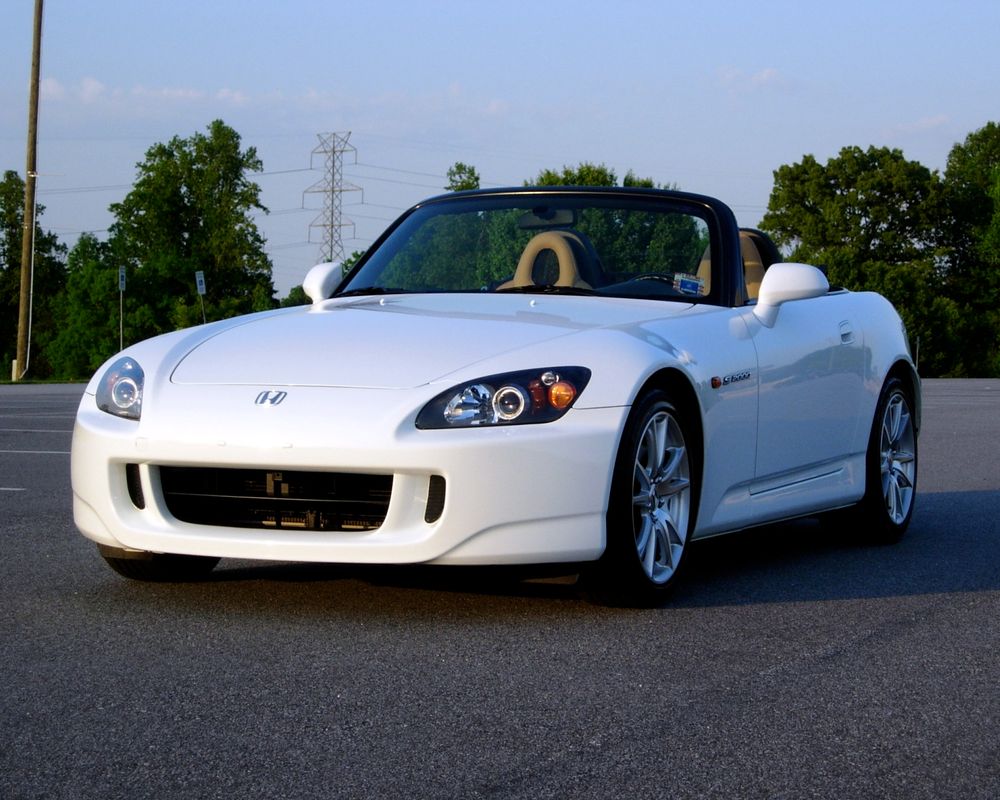 As a compact 2-door sports car, it is not surprising that the Honda S2000 has only 2 seats. In addition, even though this model is over 20 years old, its center controlling screen displayed by the LCD screen still looks modern and practical.
Moreover, one more impressive thing about the second-generation S2000 lies at its heart. The S2000 has a 1,997cc 4-cylinder DOHC engine with rear-wheel drive, which can produce a maximum power of 237 horsepower and a torque of 220 Nm.
4. Lexus LC500
The next model that we would like to introduce in today's most beautiful Japanese cars list is Lexus LC500
As a representative of the luxury car line from Japan, the LC500 accumulates technological quintessence and the future product orientation of Lexus.
Appears bigger than the RC line, the new Lexus LC500 is the flagship coupe of the Japanese luxury automaker that can compete directly with fierce rivals like the BMW 650i.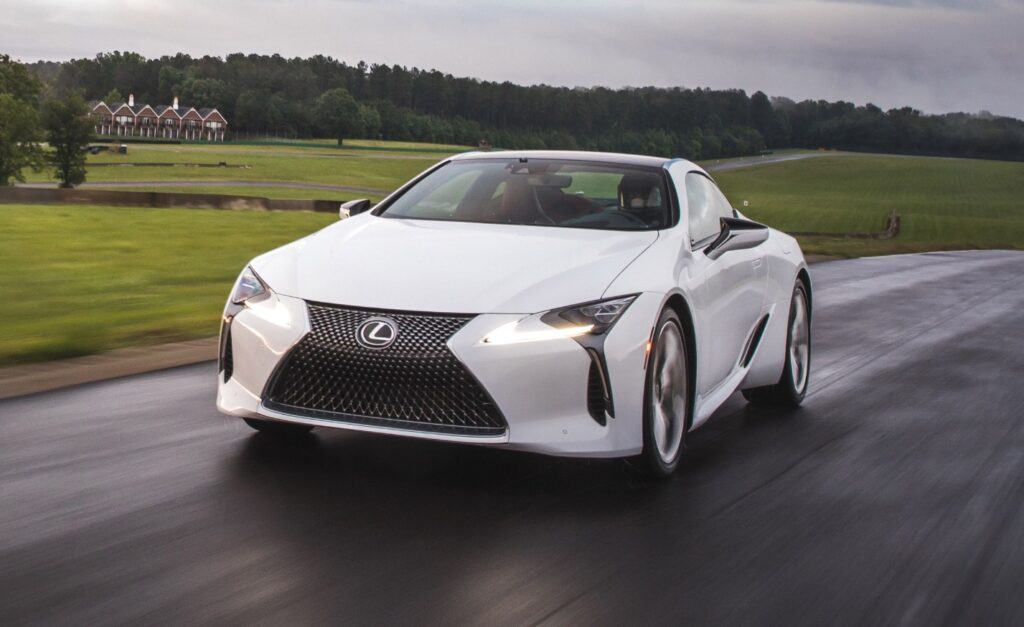 At the front, impressive fishing-hook-shaped lights and daytime positioning lights create a powerful and fancy look. Moreover, the spindle steering wheel and metal rods contribute to the LC500's modern and futuristic look.
To create strong sports performance, Lexus equips the LC500 with a 5.0L V8 high-revving naturally aspirated engine, the RC F, and the GS F. The 32-valve aluminum engine with Redline at 7,300rpm is also a remarkable feature for an exhilarating sporty driving experience on this model.
5. Toyota Supra MK4
Among the big guys looking for a legendary sports muse, we can't help but mention Toyota, specifically, Toyota Supra MK4.
In the late 20th century, the Mk4 was, undoubtedly, one of the most famous and sought-after names in the car world, with a Toyota 3.0L 2JZ-GE engine that gives the ability to deliver power up to 220 horsepower and become a dream of many car players.
Compared to the version using the naturally aspirated engine in Japan, the twin-turbo engine in the US is nearly 100 horsepower higher. It can produce a maximum capacity of 321 horsepower and maximum torque of 427 Nm.
More impressively, the MK4 Supra can accelerate from 0 to 60 mph in just 4.6 seconds and a quarter-mile in 13.1 seconds at a top speed of 109 mph. Because of such impressive numbers, this beautiful Japanese car is honored as one of the fastest Toyota Supra models ever made.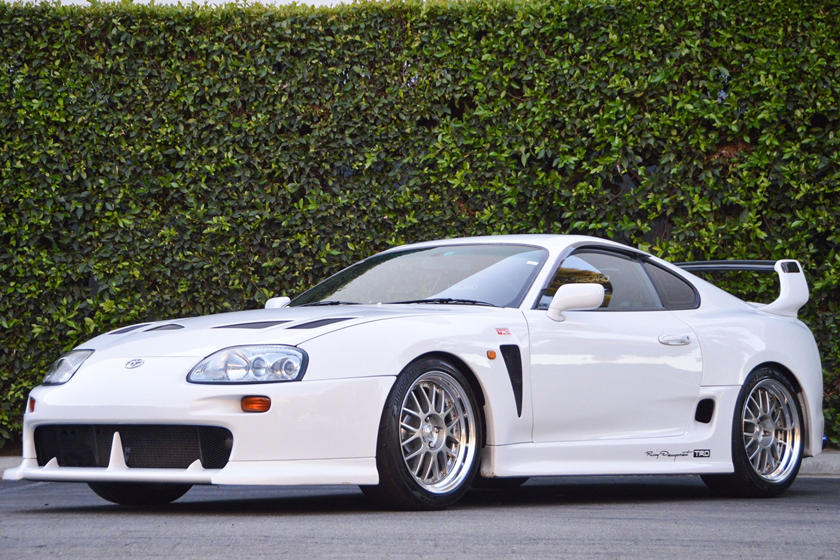 The Toyota Supra MK4 focused on highlighting weight reduction and safety in design. Toyota chose lightweight materials, such as an aluminum hood and plastic fuel cap, to reduce the whole vehicle weight. For safety features, MK4 became the first Supra model to equip optional driver and passenger-side airbags.
Other one-of-a-kind features on the Supra MK4 include side-sensing four-channel anti-lock brakes, helical cooling fins, and high beam headlights.
>> See more: Top 15 Best Toyota JDM Cars Of All Time
6. Toyota 2000GT
The Toyota 2000GT can be considered a real-life model of the Aston Martin DB5 in the James Bond blockbuster "You Only Live Twice".
First appearing on the market in 1967, the Toyota 2000GT is, according to car enthusiasts, the first real sports car developed by Asians, and a supercar hailed by the industry's most fastidious critics. The first model showed up in 1965, and 55 years later, in surprise and pride, it can still pass all vehicle inspections.
Fast, gorgeous, and rare, the Toyota 2000GT did mark a new era for Toyota, which was previously known only as a maker of safe designs cars.
The 2000GT series itself is technically and aesthetically appreciated by experts, with 4-wheel independent suspension, 15-inch magnesium alloy wheels, signal search radio, and race clock, along with a host of other 60s-inspired exterior and interior details.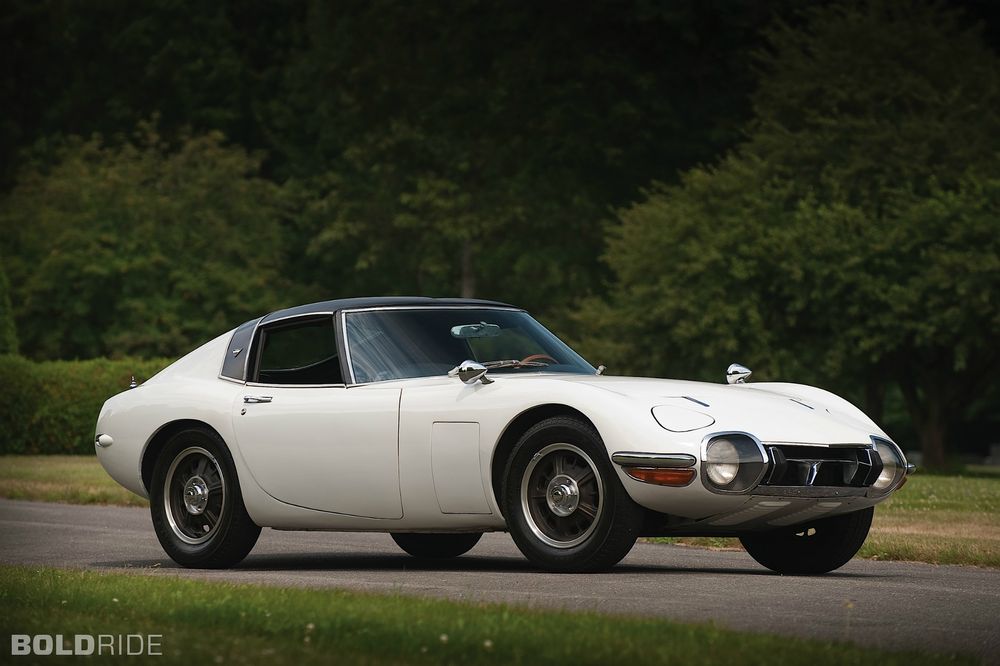 The Toyota 2000GT comes with a straight 2.0-liter six-cylinder engine with three Solex carburetors which can produce a maximum capacity of 150 horsepower. The engine power is transmitted to the wheel through a five-speed manual transmission, helping the car reach a max speed of nearly 225km/h.
In terms of driving experience, the 2000GT is even compared to the German Porsche 911, as people call them the temple of world-class sports cars.
We do not claim that this is the most outstanding among the most beautiful Japanese cars, but the fact that it is a never-ending desire of car players around the world is undeniable in any way.
7. Nissan Skyline GT-R R34
Legendary Nissan Skyline GT-R R34 (1999-2002) is the previous generation model of today's Nissan GT-R line (R35 – 6th generation), which is appeared in the famous Fast & Furious series with Paul Walker. It was very well-known in the car-tuning and street-racing world in the early 2000s.
The Skyline R34 is not only an icon of the JDM car but also the desire of many speed enthusiasts around the globe. It represents the last GT-Rs to bear the "Skyline" badge and is the model that left a lot of its influence. The R34 GT-R is designed with more user-friendly lines but does not bring too many different feelings to the driver.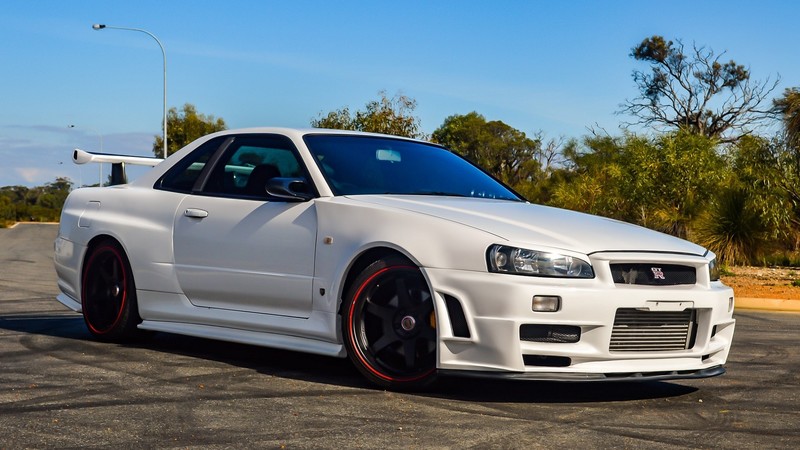 All driving parameters are displayed in the dashboard behind the three-spoke steering wheel. An rpm counter with an oil pressure gauge lies next to a speedometer. The two sides of the small clock will display the water temperature and fuel reserve.
It is a legendary RB26DETT twin-turbocharged, an indispensable part of the Skyline GT-R engine with a capacity of 2.6 liters producing 276 horsepower and 400Nm of torque that power this model, making it one of the most stand-out among tons of Nissan JDM cars.
The car also uses a 6-speed manual transmission and 4-wheel drive system, helping the car accelerate from 0 to 100km/h in just 5.2 seconds before reaching a maximum speed of 250km/h.
8. Mazda RX-7 FD
Another prominent name in the list of beautiful Japanese cars is Mazda's once-famous RX-7.
The third generation of Mazda RX-7, FD, is the most popular generation among JDM car enthusiasts that comes with an eye-catching design and impressively powerful rotating engine block. Besides, RX7 FD is also a model launched at the peak of the Japanese sports car movement.
In this RX-7 generation, Mazda produces in 3 series, based on the 13B-REW 2.6-liter Wankel Rotor engine (twin turbocharger). With a maximum capacity of 236, 255, and 276 horsepower, all are equipped with a standard 5-speed manual transmission and an optional 4-speed automatic transmission.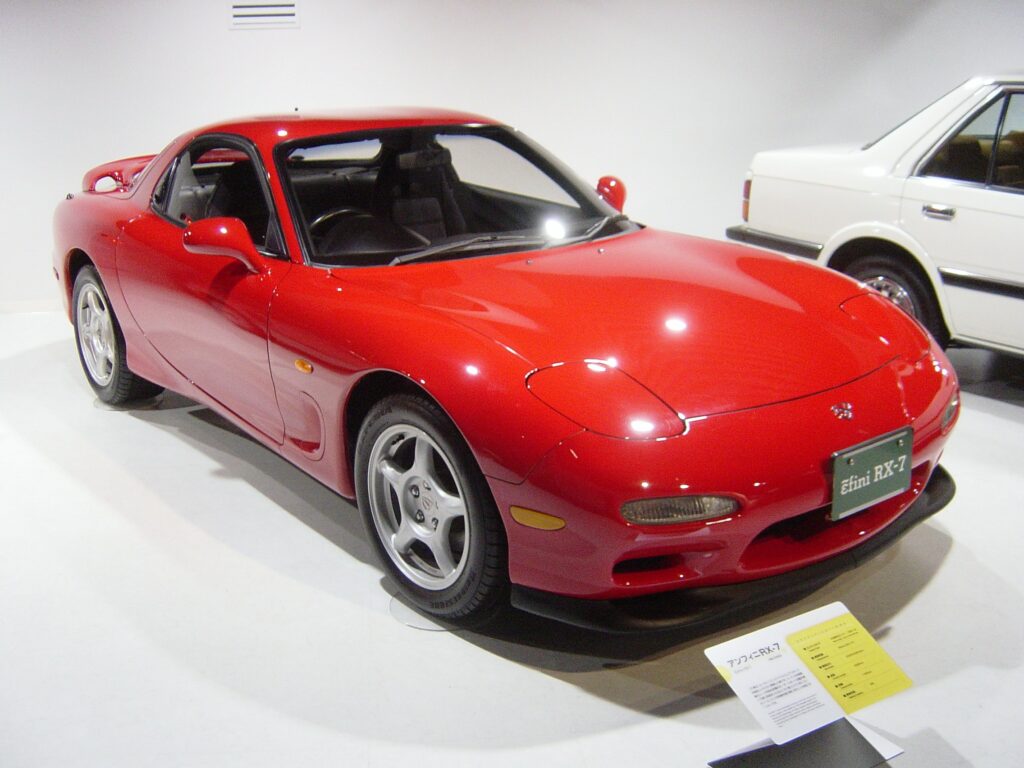 Looking at its exterior design, you may not see any straight lines, just elegant curves, an undeniably perfect shape. Its body, overall, is very sexy.
Achieving the title "Playboy's Car of the Year for 1993", many publications rated it as one of the most beautiful Japanese sports cars that ever appeared on the market.
If you are a fan of the Fast and Furious series, you probably already know the Mazda RX-7 FD model appeared in the Tokyo Drift episode. Showed up only in a few scenes, the modern beauty of this car has already made such a great impression on viewers and car lovers, even until now.
9. Datsun 510 Bluebird
The next beautiful Japanese pretty face to be praised today is a car dubbed "the BMW for the poor", Datsun 510 Bluebird.
With the distinctive round front lights and boxy body, many people still believe that the design inspiration of this car is the original BMW 2002 tii that captivated speed enthusiasts in the 70s.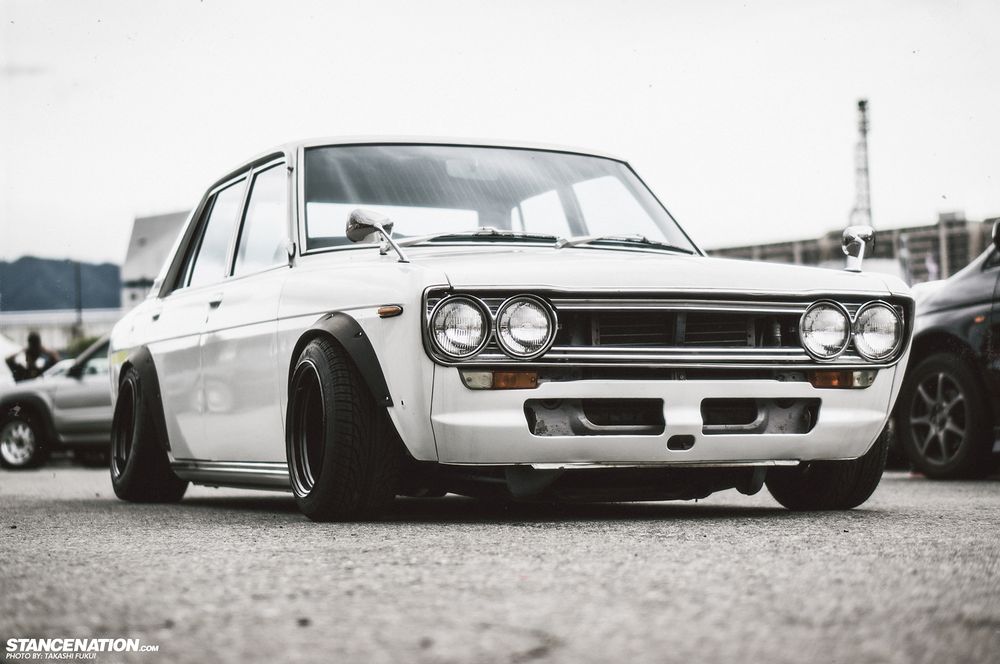 With a simple yet sophisticated beauty, the 510 is highly appreciated for its 1.6-liter in-line 4-cylinder engine, producing a respectable 96 horsepower and can reach a maximum speed of 160 km/h.
Another great feature of this car model that has always made it so beloved is the perfect 50-50 weight balance, which many modern sedans today have yet to show to the world.
Over the years, the cute Japanese car has become an icon thanks to its unique boxy and square appearance. The 510 Bluebird has brought success to the Japanese car brand thanks to its excellent performance and affordable price.
10. Lexus LFA
It has been a long time since the Lexus NFA hit the market, and until today, many car enthusiasts would still call it a masterpiece. The Lexus LFA first introduced the prototype in 2005 at the Detroit Auto Show. Over time, the project has changed, and it officially got into commercial production in 2009.
The most prominent features of LFA are air intake tubes on both sides of its body that deepen into the glass windows and 3 exhaust mufflers at the rear.
Can be classified as a luxury passenger car (GT – Grand Tourer), the interior of the Lexus LFA is both sporty and classy with a racing-style steering wheel and a cabin completely wrapped in Alcantara.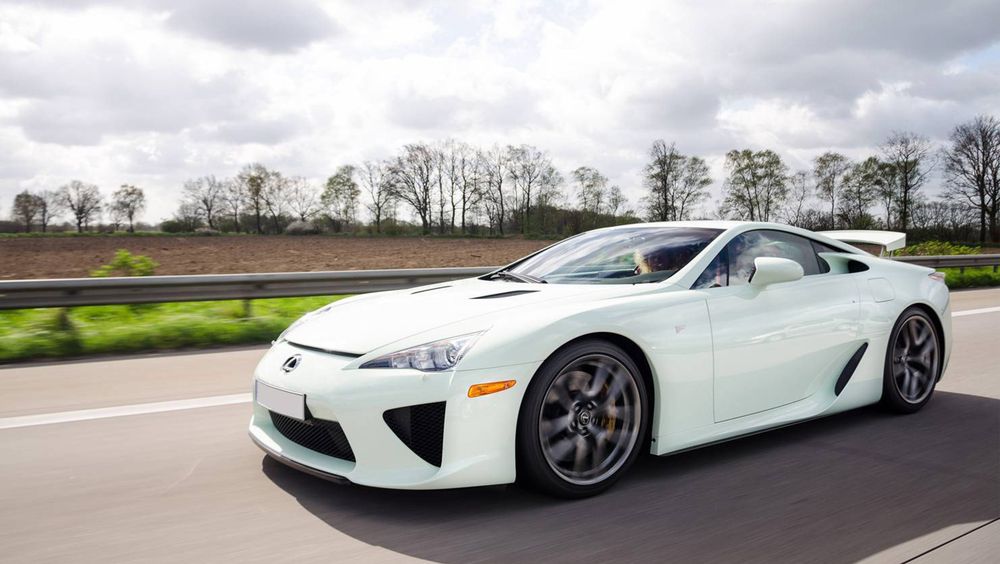 According to Lexus, LFA can accelerate from 0 to 100 km/h in just 3.7 seconds and reach a top speed of 326 km/h, which creates a unique mark for the car as years go by.
Many experts assess that, although Lexus LFA is not the one that changes gears as quickly as modern supercars, it still possesses excellent mobility.
Renowned for its luxurious beauty and great value that resonates at every inch of bodywork and performance, this is arguably the most perfect car Lexus has ever created.
Beautiful Japanese Cars: Beauty Is In The Eyes Of The Beholder
We've just gone through the pictures and skimmed over information on some of the most beautiful Japanese cars of all time.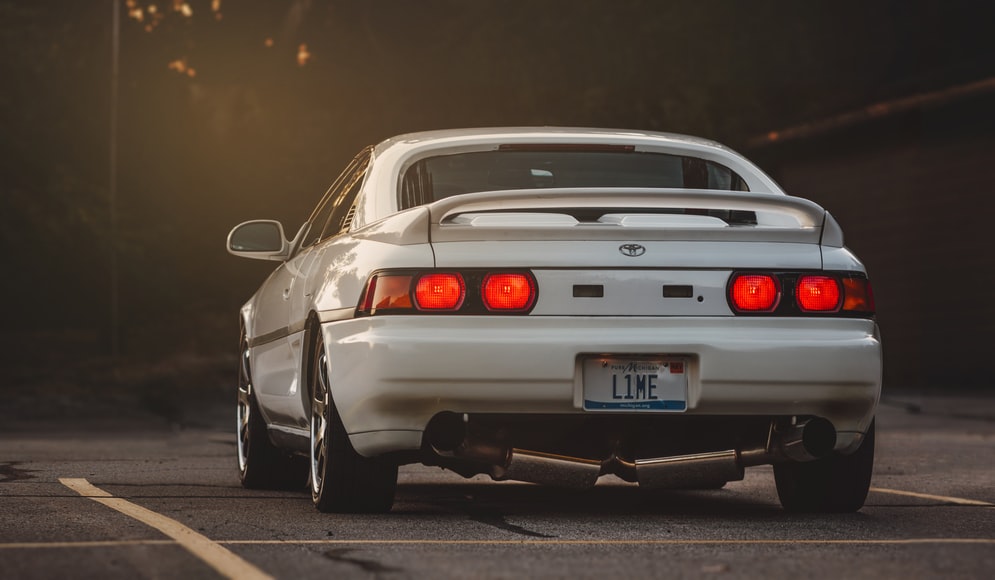 Pay close attention and you can find these unique rare models in antique car auctions. If you give it enough love and have more luck smiling at you, you may one day take these cool Japanese cars home.
Check out more used JDM cars updates and auto news with us right now.
Popular posts
---