Why Is The Toyota AE86 So Legendary?
Toyota – the brand that never fails to amaze whether it be with its incredibly reliable economy cars or incredibly influential sports cars, Toyota is going to put 100 effort into making something worth driving. And Toyota AE86 is proof of that. The AE86 or more lovingly referred to as just the 86 is one of the most legendary Japanese cars of all time. Why is the Toyota AE86 so legendary? We will discuss this topic.
Toyota AE86 History
Before we move any further, we're going to discuss the history of a Toyota AE86. It began production in 1983 and continued up until 1987. The 86 came with 2 different front ends and three different trim levels with two body types: Coupe and Hatchback. Toyota AE86 is the predecessor model, inspiring Toyota to later launch the Toyota FT86 sports car. Toyota AE86 has in the list of popular street cars, besides other names such as Nissan GT-R, Toyota Supra, and Mitsubishi Lancer Evo…This was the inspiration for the development of the rear-wheel drive sports cars Toyota GT86, FT86, Scion FR-S, and Subaru BRZ today.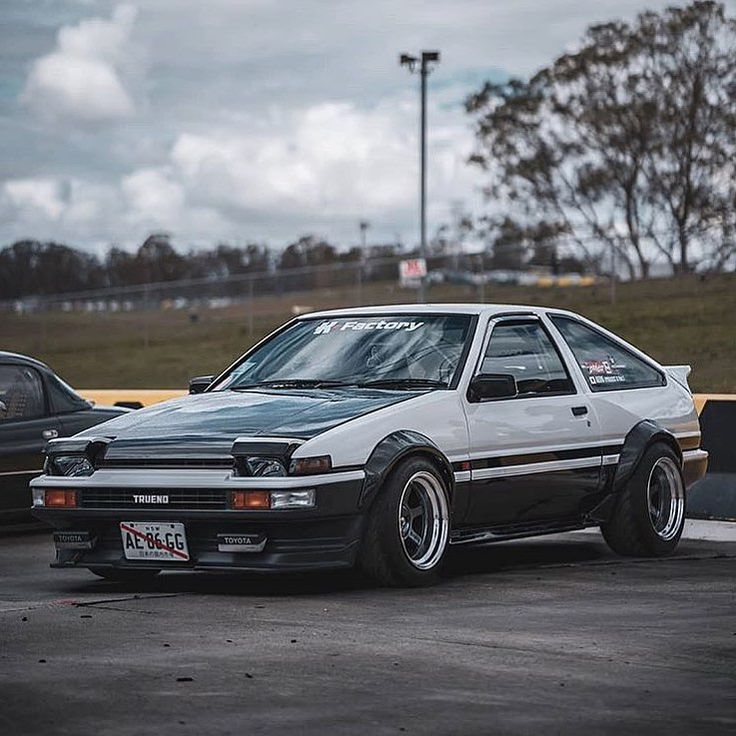 Toyota AE86, also known as "hachiroku" in translation from Japanese means "eight" and "six". Usually, we often call the Corolla AE86 but actually, it has many other names such as a: Cartoon star. OG. drift. Hachiroku. It can be seen that the AE86 is a very special model compared to other models because it is named after Toyota's internal chassis code for this model.
Why Is The Toyota AE86 So Legendary?
Unknown to many people except car fans, the Toyota AE86 is one of the all-time great cars to come out of the 80s and 90s. So what made the ae86 so cool for a long time? Let's find out in this part:
The engine
There aren't many cars with a setup that the AE86 has rear-wheel drive, a naturally aspirated four-cylinder engine, and a manual gearbox. Its engine is perhaps one of the most famous parts of the AE86. Powering the Toyota AE86 is a 4A-GE I4 DOHC 16-valve 1587 cc engine with a maximum capacity of about 130 horsepower at 6,600 rpm and maximum torque of 149 Nm at 5,200 rpm with a 5-speed manual transmission. This engine is equipped with Toyota's variable intake system (T-VIS) and LSD limited slip differential.
Its appearance
The great thing about the AE86 is its outstanding appearance. Toyota AE86 has a typical 80s design with frog-eye headlights and an angular front end. The car has frog eyes headlights, when the switch is turned on, the headlights will be raised. The design of the 2-door car is quite fashionable and to this day, it still creates a car according to the "racing" quality. 
As we know, two different bodies were placed on the AE86 base: The Toyota Corolla Levin and the Toyota Sprinter Trueno. From a technical point of view, they were identical. Their only visual difference was that the Levin has standard rectangular headlights, while the Trueno had retractable ones.
The rims of the car have also been modified compared to the original, 15-inch size painted in gold. More specifically, a set of thick tires dedicated to drifting.
A good drift car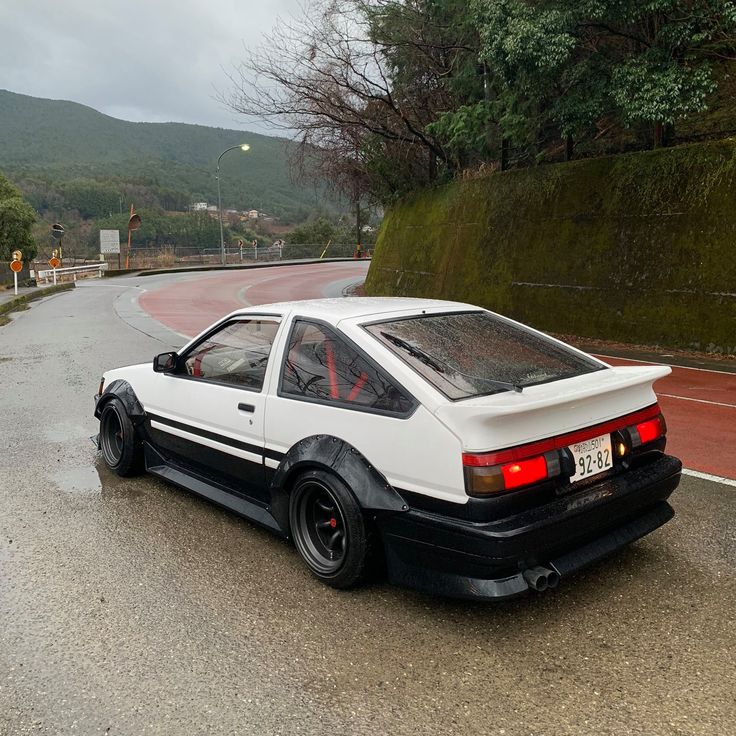 Drifting started to become popular in Japan in the 1980s and 1990s. The 86 was perfect for it, at that time it was an affordable, fun, and reliable RWD car. Corolla is even called the "drift king". Most of the drift of the AE86 can be attributed to its impeccable engineering and evenly distributed weight. As for the suspension, Toyota used a direct rear axle instead of an independent rear suspension.
The AE86 is also a small and light car, which makes it easy to drift. Toyota AE86 soon became one of the most appreciated platforms in drifting and its popularity was no doubt increased by its inclusion in the Initial D anime. Initial D is a 48-Episodes Japanese manga series. Most AE86 enthusiasts were introduced to this car through Initial D. Despite the lack of power compared to more modern cars, the car weighs less than a ton (2200 lb), resulting in a decent power-to-weight ratio. This thing is good for 60 miles/hour in around 8 seconds. It's one of the important factors that made the AE86 become a car for drifting.
Final Thoughts
Pop culture is one of the biggest reasons why the AE86 has received such widespread love and admiration. Toyota's AE86 has influenced an entire generation, and its impact on car culture is no exaggeration.
After its release, the Toyota AE86 appeared in many car video games. Some of these games include Shift 2: Unleashed, Gran Turismo 5, Gran Turismo 6, Forza Motorsports 2, and Forza Motorsports 4. Although Toyota discontinued the AE86 in 1987, you can still own a Corolla today. However, Toyota AE86 is rare and not often seen on the road. At certain times, some AE86 models are available for sale on car websites. On used car websites, the price of the Toyota AE86 Corolla ranges from $15,000 to over $40,000.
Popular posts
---