A Guide To All 4 Generation Honda Acty Truck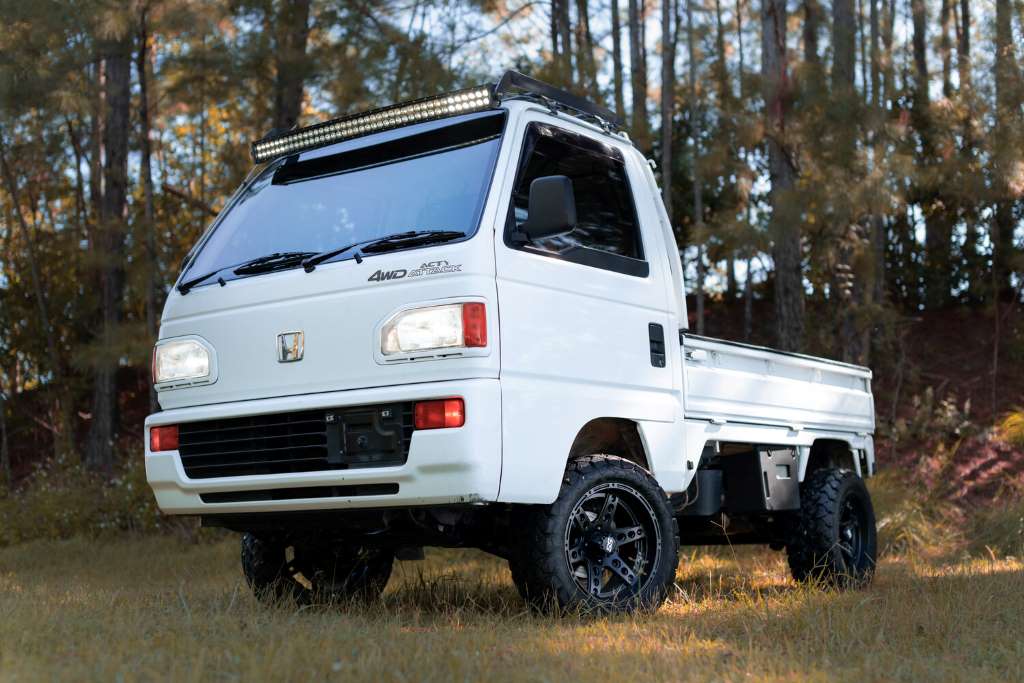 If you are a big fan of Japanese vehicles because of their durability and robust engine, you may have already heard of Kei trucks or mini trucks. These are super compact cars but still offer tons of desirable features in terms of driving and good loading.
And among the most prominent and well-known models in recent years within the used car market around the globe, Honda Acty Truck has risen as a symptom.
So to help you to get more insight into this cover model of Japanese Kei cars, let's follow along with our guide to all 4 generations of Honda Acty Truck right below.
The Honda Acty Truck Throughout The Year
As you know, this mini truck debuted in Japan in 1949. But only until 1977, at the end of the 70s, the Honda Acty Truck appeared and marked a remarkable stone for the growth of this vehicle type.
The Acty was unveiled on July 27, 1977, taking place and heir the legacy of TN Series, Honda's predecessor but not so famous Kei Truck lines.
The first generation of Honda Acty Truck
Looking back on the specifications of the Honda Acty Truck at the first pace of its journey, you may wonder several things about this model. The Acty Truck came with a 545cc engine that generated about 28 hp and only 30 pounds-feet of torque output.
However, with such so-called underperforming engine power and slow speed on any terrain, many people still become upset and want to own one for their daily needs and job.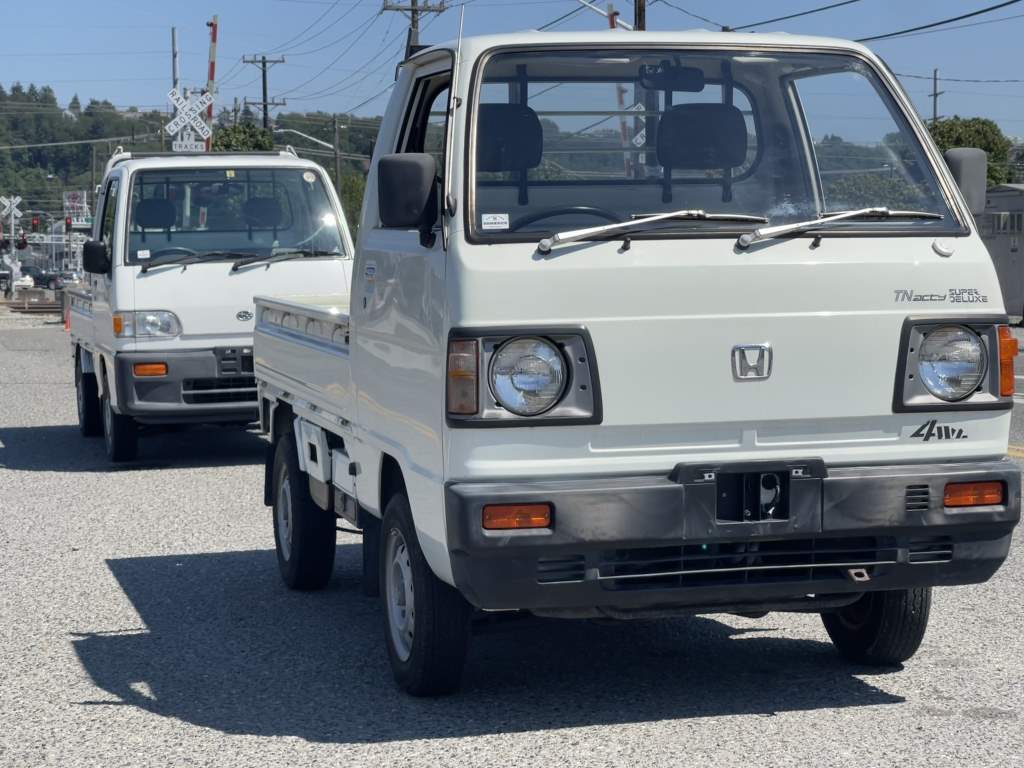 With the sudden love received from truck drivers compared to so many models ahead, the first-generation Acty truck sold well enough for more than 10 years later, until 1988. During this time, Honda also released the van version of Acty in 1979 based on the truck platform to diversify the choice for brand lovers.
The second generation of Honda Acty Truck
The first second-gen of Acty showed up in May 1988. This gen model came equipped with the brand new E05 SOHC 3-cylinder engine to keep up with the modifications of Kei class regulations and the rapid changes in the Japanese auto industry.
And finally, in 1990, the major upgradation of the 656cc-engine Acty came with a strike. Moreover, it was armed with a few more improvements, including a radio option, a transmission of a 3-speed automatic, and some options in the exterior to your liking with round headlights instead of square ones.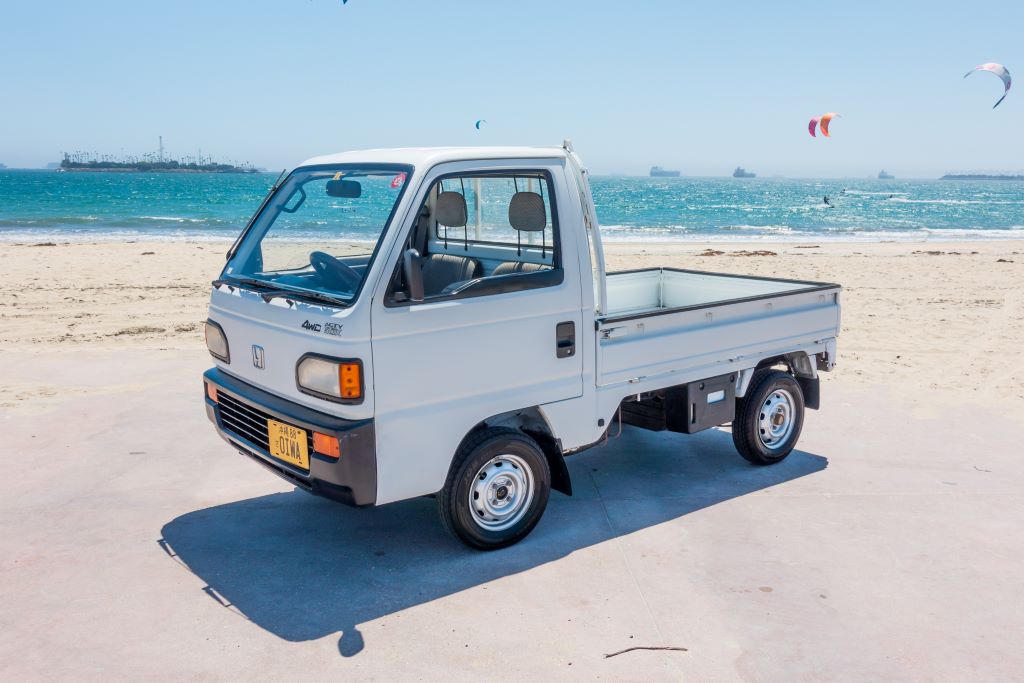 Some of the limited editions of the Honda Acty in this period are the Acty Crawler (1994 only) and the Acty Attack (1991 exclusive), two 4-speed manual trims with ultra-low forward and reverse gears. In more detail, the Attack was a 4WD off-road vehicle handling rocky and rough terrain with a locking differential.
On the other hand, the Acty Crawler came with six wheels, far from the traditional four covered around the rear tires to assist in driving effectively in thick mud and snow.
The third generation of Honda Acty Truck
Continuing the history of the Acty Truck are the 1999 to 2009 models. From 1999 to 2009, the 3rd generation was the so-called king of the Kei truck segment. There are a few highlighted upgrades such as increased engine power, added power steering, and enhanced fuel efficiency.
At this time, the safety law passed by the Japanese government significantly influenced the redesign of the Acty, as it was the first generation to feature a driver airbag as standard equipment and offer an option for a passenger airbag.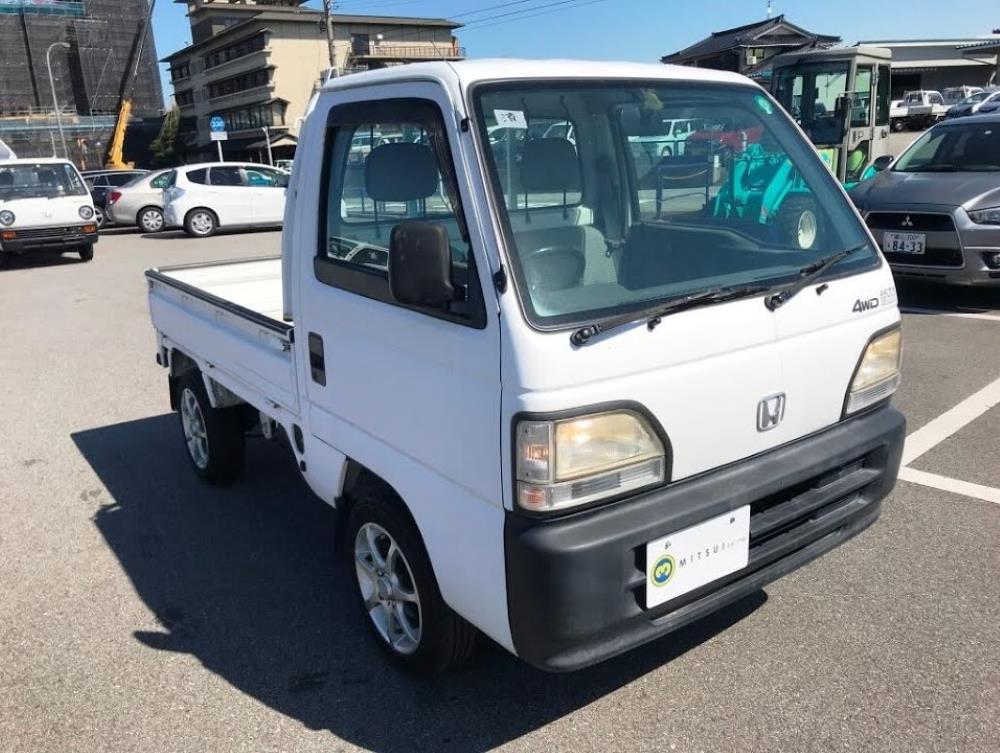 The 4th generation of Honda Acty Truck
Regardless of how long the Acty Truck has been in production, Honda continues to develop and update this model until production is discontinued in 2021.
In particular, this generation of trucks retains its appearance as close as possible to the previous generations. It used a 44 horsepower E072 engine and the wheelbase was shortened to 6.2 ft, like the 2nd generation, to increase cabin space.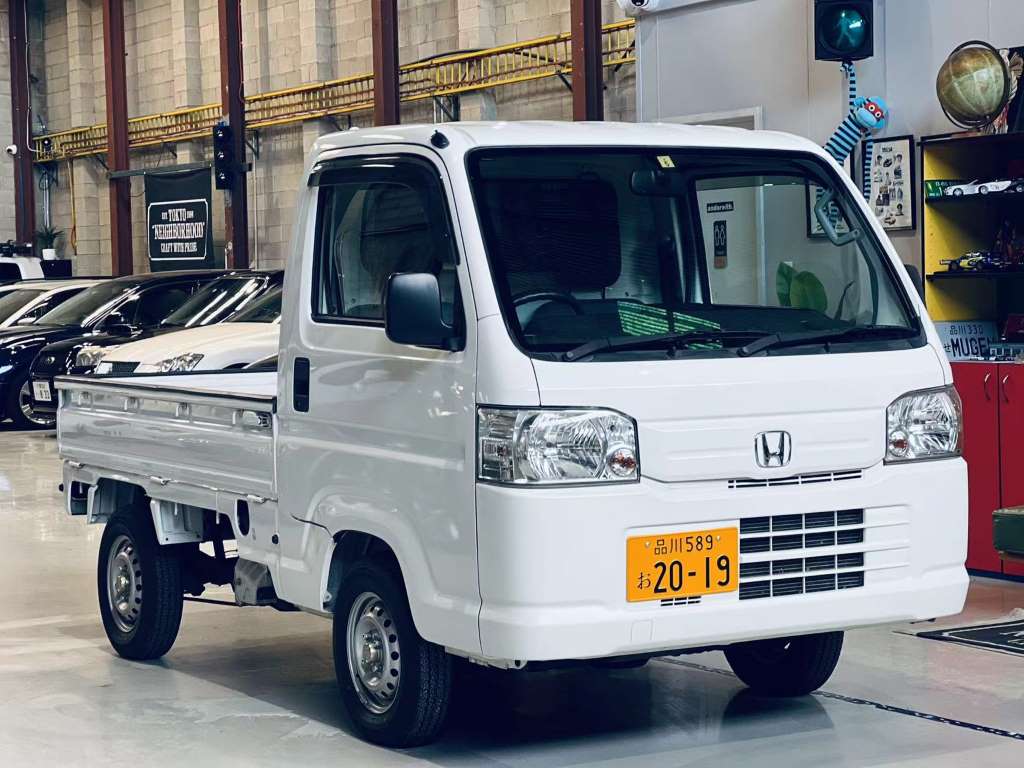 The highlights of the 2nd-gen Honda Acty Truck
Throughout history and based on the current resale value of the Acty truck, we can particularly know which of its generation is the most favorable and worth your money with no regret. It is none other than the 2nd-gen models manufactured from 1988 to 1999.
To break down the reason behind this preferable option, we can first see that it is about the unique utility of the automatic choice for the typical engine transmission.
Among all trims that Honda offered, this one might seem to be more accessible for a part of drivers not familiar with or enjoying the stick shift.
Not only that, you can get more benefits than you ever imagined in a model that used to be recognized for its low-performed engine power.
For the 3rd-gen Acty, Honda, as an innovative global automotive brand, equipped it with a real-time 4WD and a good number of trim levels used for any purpose, from hauler, off-roader, or daily driving.
Another reason is that models from 1993 onwards are all electronic fuel injection, although this engine type is only available on Fox and Xi versions.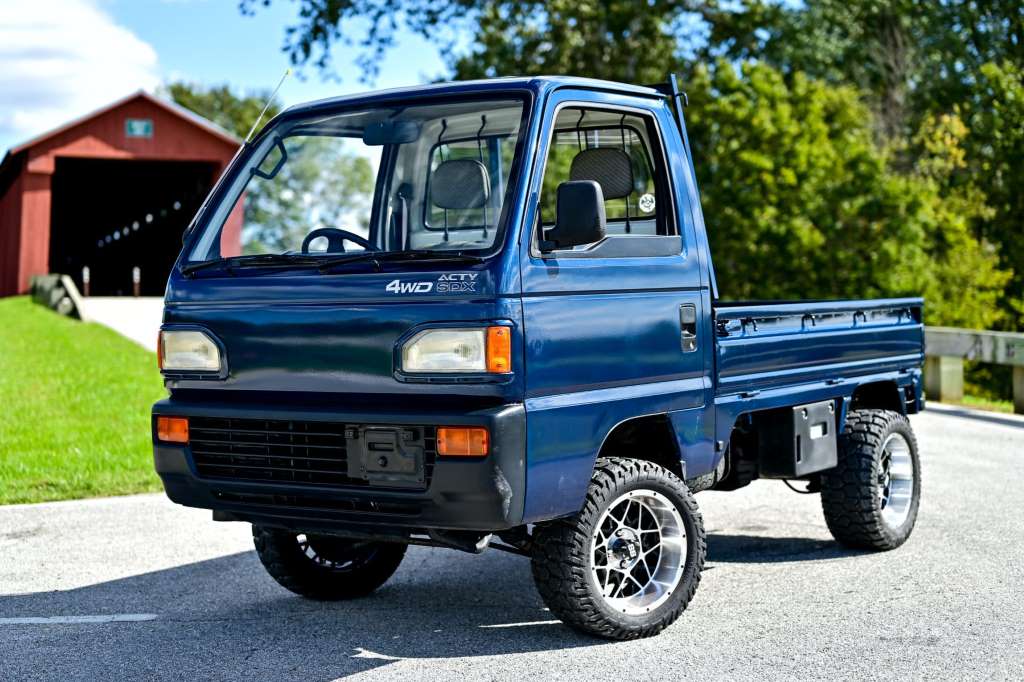 And despite being a small truck, the trunk still has plenty of space for most light to medium loads you might need to transport. In addition, drivers can fold down the sides and back of this truck carrying bed instead of just the back door.
With such top-knot enhancements in the needed time, the 2nd-gen Honda Acty and other generations, in general, have impressively left their imprints on the automotive market for all those years.
What To Know Before Buying A Honda Acty Truck
So now you know all about the developments and some good things about each generation of the Honda Acty Truck. Coming with a suitable trim level, you can take many advantages and enjoy comfort during operation.
However, if the 2nd or 3rd gen models of this car are the most-sought-for, in case you are looking for it, you have no choice but to opt for used ones.
These used cars not only last for 4 or 5 years, they only can be in your cart and ready to be shipped at the age of more than 20. And we all know there will be tons of issues to face when getting an old vehicle for everyday driving or working.
Even designed to serve as a professional workhorse, their instructing design and technology are all in the previous decade, causing many hard-to-avoid problems with the engine and the original power.
Below are some notices you should keep your eye on before getting an old Honda Acty Truck.
Safety issues
Although the Acty Truck was ahead of its time in many ways, one of the main downsides to buying this used car was the lack of safety features. With newer models, this is not a big deal. But with older ones, the things will be different.
The 2nd generation Actys was produced long before there was a requirement for airbags, seat belts, and other critical safety devices. This means that while they are allowed to drive in the states due to 25-year US import regulations, you will need to understand the downsides of driving a truck like this.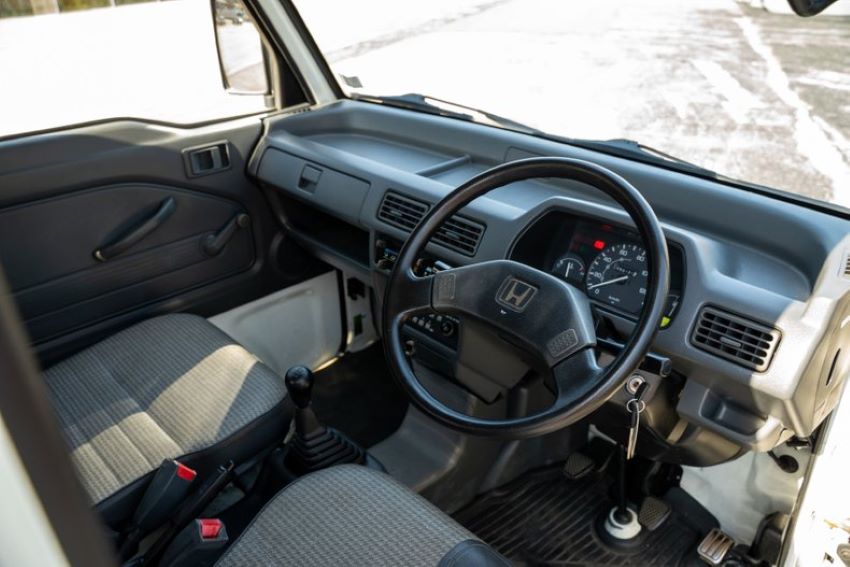 Because Actys are older and so small, they are even more at risk of being damaged beyond repair in an accident. This problem is alleviated somewhat on streets where you probably won't go faster than the 45 mph the Acty can handle.
But if you're going to do this on the highway, especially more than once during a blue moon, you'll need to know what you're getting into.
Kei truck has a compact design, and the engine is produced for the Japanese market. So, in their available form, they can't handle the speeds you can get on US highways, and because of their size, they're much more susceptible to wind and air resistance.
Maintenance issues
Another factor to consider is maintenance. Since these trucks are so common, there is a lot of information surrounding how to care for them, especially if you are a skilled mechanic.
But these minivans still have their problems. Some of these are weak timing belts, electrical problems, and passenger-side engine mounting failures.
Many cars of different brands have cam belt problems and the Honda Acty pickup is no exception. One notable problem with these trucks is that timing belts wear out disproportionately and tend to fail long before they are expected.
Ttiming belts wearing out is a pending thousand dollars worth of repair work. After the cam belt fails, everything connected to it will stop and collide, causing the entire engine to fail and completely unable to run until repaired.
Over time, the electrical system in the Acty rots and wears out, usually the ECU's capacitors, which can leak, swell, and even explode. Fixing this is an annoying but not necessarily complicated task, but it's something to know.
Furthermore, the engines will eventually sag and press down on the supports due to age and use, especially on the passenger side, leading to disastrous consequences if left untreated.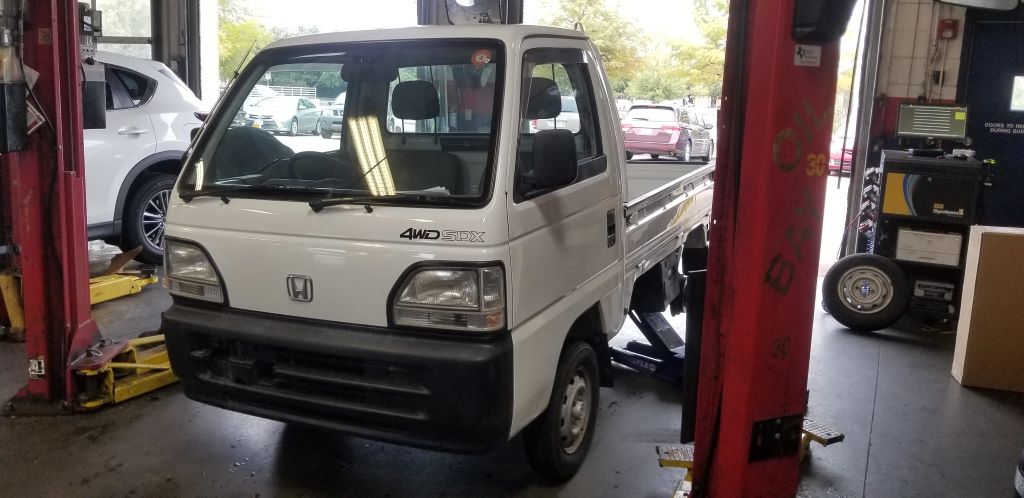 Finding parts can also be difficult for older cars, especially foreign ones. While Actys doesn't stop production until 2021, the parts you need to properly fit and assist a truck from at least 23 years ago can be hard to find.
Other issues
Those issues above are just some of the factors to take into account when considering whether or not to buy a pickup truck. If you get the chance to inspect the truck in person, you'll need to pay attention to a few more things.
You should conduct a careful inspection of the bodywork and frame, including checking for rust underneath the vehicle or anywhere in the bed and bubbles that may indicate rust forming. When checking the undercarriage, you can still apply the usual old car inspection methods.
Moreover, looking for leaks, joints, or loose fixtures, and checking your cv boots or other suspension parts for tearing or damage will also be ideal if you want your Acty to be fully aware right at the beginning.
Another issue you should check during a body inspection is body panels mismatching. This issue could signal that your about-to-choose pickup truck has been partly or severely damaged, and you may not know the cause.
The Current Status of Honda Acty Truck On The Market
The Honda Acty Truck has proven itself in the market with stable growth and an impressive number of sold units for all those decades. Nowadays, the star pickup truck is still rising while making its move and impact in today's auto system. However, drivers can only opt for used or pre-owned ones since this vehicle type belongs to the past.
If you want to buy an Acty Truck that can serve your every need, go for a reliable used car platform or dealer to secure the deal. The price tag of this truck currently is very reasonable, not to say cheap and affordable.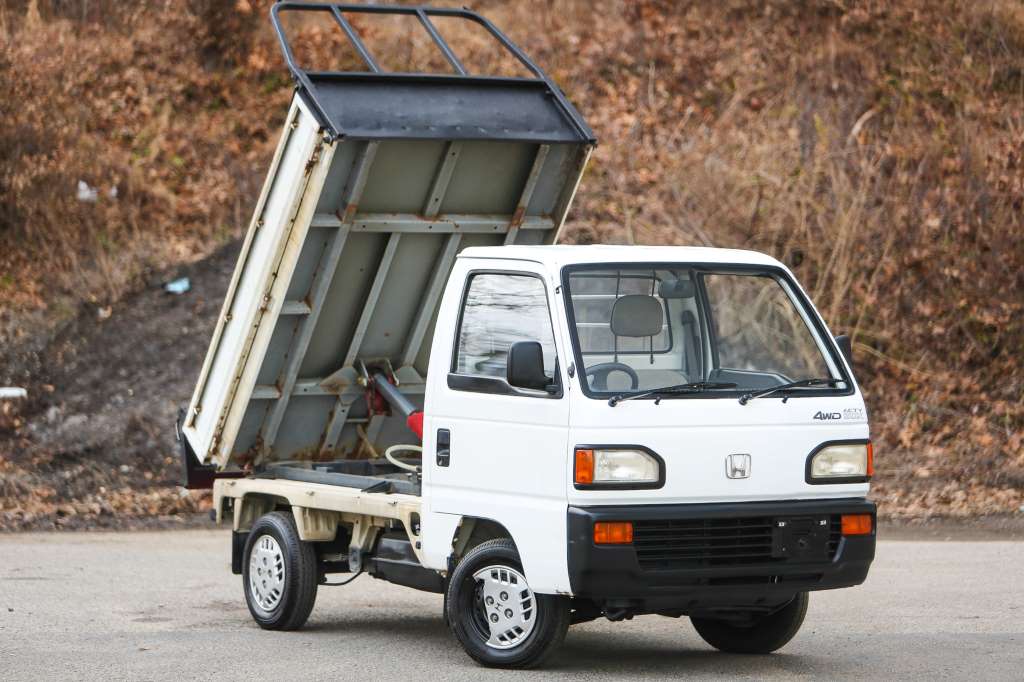 For under $5000, in many cases, you already have for yourself a condition-secured 1994 or 1996 Honda Acty Kei truck at any trim level.
Not only that, but with a full-scale history, you can choose from tons of models with engines performed at different horsepower and torque outputs. To simplify the may-or-may-not available designed trims for every generation, take this model's series division below as references.
TA, TB, TC, VD, VH (1977 to 1988)
HA1, HA2, HH1, HH2 with the E05A engine (1988-1999)
HA3, HA4, HA5, HH3, HH4 with the EN07A engine (1988-1999)
HA6, HA7, HH5, HH6 with E07Z engine (1999-2009)
Although unfortunately, we can not list down the exact price for any of these models since it depends on each car's condition and features, the general go-to price for the Honda Acty Truck always starts from 900 dollars (not including the shipping fees).
With the cost you pay for other procedures to get the car right at your door, the maximum number is very unlikely to reach $9,000 unless that car is super pristine or released later than others.
With just one good and careful investment, you can take advantage of a robust and easy-to-handle Kei truck to assist you in your daily job and commute.
Among all the good choices, you can opt for this JDM Truck comparision for easy consideration. And after that, the things you earn will double or even triple the amount you spend.
Wrapping Up
Throughout its 4-gen history, the Honda Acty Truck has always shown its deserved position and received so much love for its reliability, outstanding fuel efficiency, practicality, and affordability.
Acty is more or less one of the best Kei trucks. You can use it every day, especially if you need space for big cargo or carrying various loads.
Hope you can find the Acty truck of your wish and JDM Export will see you again with more Buying guides in the future.
Popular posts
---