Honda Acty vs. Suzuki Carry vs. Subaru Sambar: JDM Truck Comparison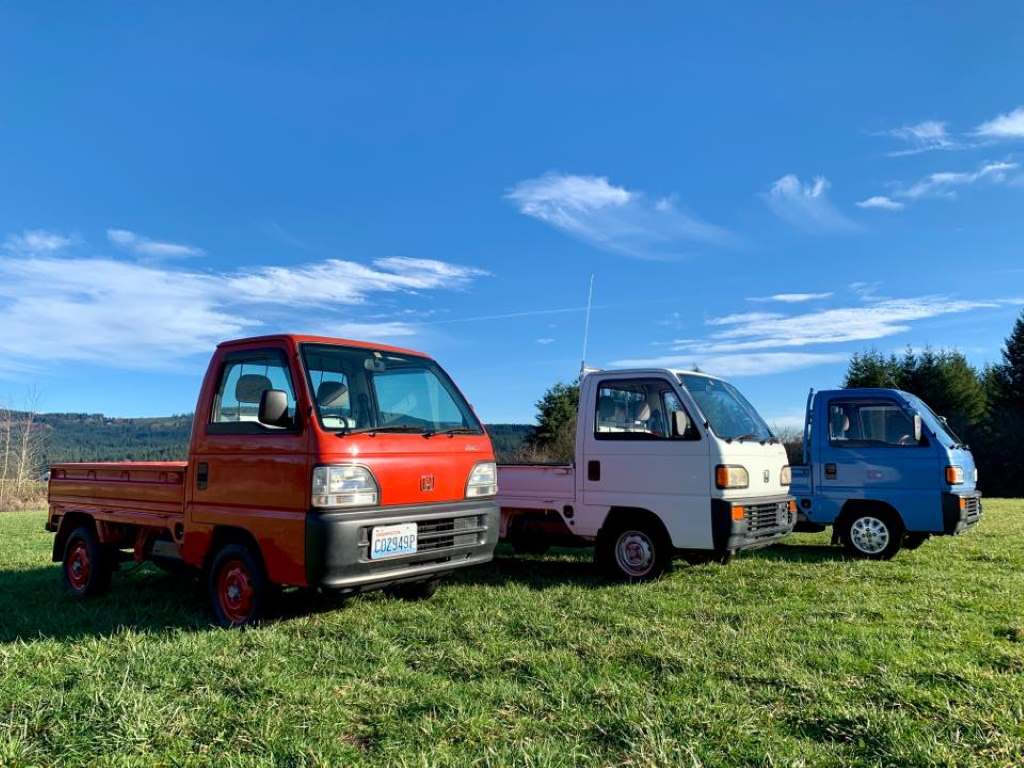 Are you crazy about the Japanese mini trucks and want to get one for yourself right now? If so, then there must be a few options that you may have considered. Will it be Honda Acty Truck vs. Suzuki Carry vs. Subaru Sambar. Let's follow along!
Opening
Even if you don't live and breathe JDM cars and haven't paid much attention to the terrain driving scene over the past few years, you've probably seen a large number of Kei trucks crossing to the United States and your local classifieds.
Although small overall, with three- and four-cylinder engines provide enough power without draining too much fuel, they can be easily claimed for even under $5,000. Among some of the top options, the most stand-out mini trucks are Subaru Sambar, Suzuki Carry, and Honda Acty.
In our below guide, we will go through a detailed comparison to clarify each model's characteristics and help you choose the best fit.
The Similarities of Honda Acty Truck vs Suzuki Carry vs Subaru Sambar
The Honda Acty, Suzuki Carry, and Subaru Sambar are popular in the Japanese markets because of their spacious cargo space and robust build, perfect for commercial or personal use.
Also, they are designed to be compact, slim, durable, and highly efficient, making the three a top choice for drivers and business owners.
Great and robust performance
We all love a good delivery vehicle, and the Kei truck is one of them. These vehicles have even been compared to traditional pickup trucks and in some cases, they even have the upper hand.
The fact that they come with a 4×4 gearbox makes it perfect for use anywhere. So, if you need a dependable vehicle that has been proven and praised by millions over time, the Japanese mini trucks will not let you down.
Easy maintenance
Repairs and maintenance are expected from every vehicle. However, that doesn't mean it will break all the time. Unfortunately, that's the case with many vehicles on the market. Especially if you are dealing with an old car.
But why not try the Japanese minitrucks, which are exceptional when it comes to maintenance and repair needs? They are well-built with a sturdy body and frame that will last long.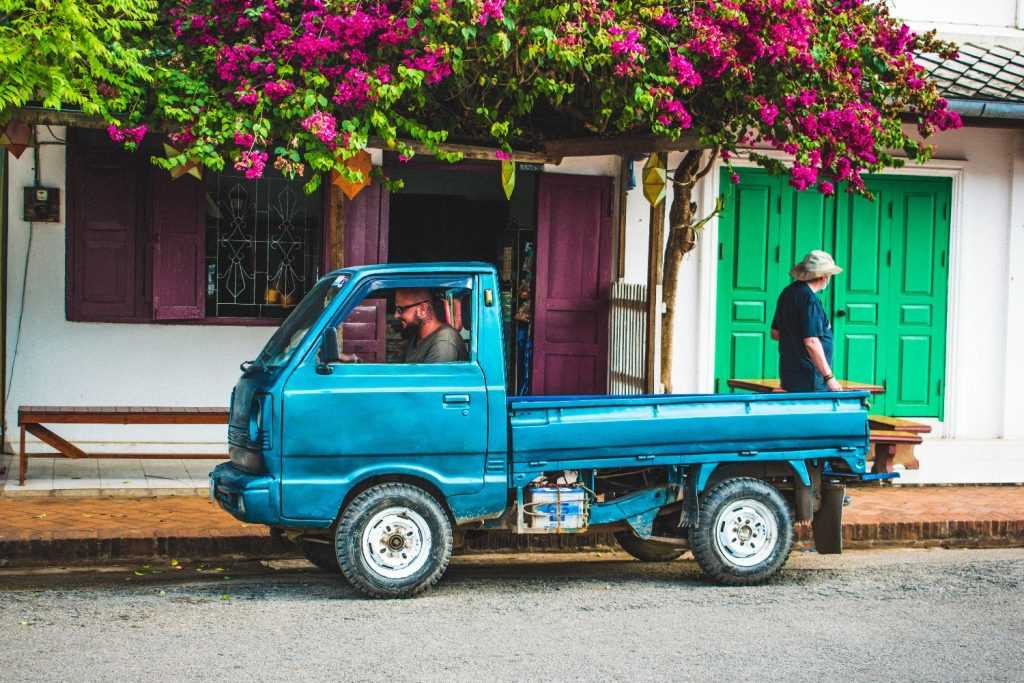 Another thing that makes these easy to maintain is the availability of spare parts, thanks to the fact that they are manufactured by some of the leading automakers.
Good fuel economy
If you hate the fuel economy of pickup trucks and other cargo trucks, then a Kei truck may be for you. These cars are made with small engines but optimized to deliver high torque without consuming a lot of fuel.
Reliability
Imagine you are trying to go from one city to another with a heavy load and your typical passenger car breaks midway. Wherever you go, reliability and performance are always crucial factors when it comes to cargo trucks.
This is why the 5-speed, 4×4 drive with the highlighted choice of Kei trucks of up to 660cc engine is the ideal vehicle for stock carrying and traveling in the harshest and roughest environments.
Cheap price
One of the top reasons why Kei trucks such as the Honda Acty Truck, Suzuki Carry, or Subaru Sambar are so popular around the world is their affordable price tag. You will be shocked at the deals you can get at Japanese auto auctions.
If you look at other vehicles used to carry goods, it is clear that this vehicle type is much cheaper but still offers incomparable reliability!
Honda Acty Truck vs Suzuki Carry vs Subaru Sambar: The Differences
Before diving into the details comparison between the three models, let's take a look at a summarized table of some most notable and outstanding features of these Kei trucks.
Honda Acty Truck
Suzuki Carry Truck
Subaru Sambar Truck
Body Type/Capacity
2-doors pick-up truck
2-doors pick-up truck
2-doors pick-up truck
Production
1977-present
1961-present
1961–present
Weight
810 kg or 1785 lbs
785 kg or 1,731 lb
780 kg or 1719 lbs
Torque
59 Nm
63.4 lb-ft
58 Nm
Power
45 ps
(33 kW; 44 hp)
57.6 hp (37kW)
48.6 ps
(48 bhp – 35.7 kW)
Max Capacity
350 kg (772 lbs)
450kg (992 lbs)
Up to 850 kg (1,873 lbs)
Fuel Tank Capacity
9.7 US gallons
8.1 UK gallons
37 L
10.5 US gallons
8.7 UK gallons
40 L
10.5 USgallons
8.7 UK gallons
40 L
Fuel Consumption
41.2 mpg US
49.5 mpg UK
5.7 L/100km
50 mpg US
60.1 mpg UK
4.7 L/100km
39.8 mpg US
47.8 mpg UK
5.9 L/100km
Engines
656cc E07Z SOHC I3
658cc R06A I3
658cc R068 I3 T
544cc EK23 I2
544cc EK23 6V I2
665cc EK42 I2
Length
Width
Height
3,395 mm
1,395 mm
1,745 mm
3,395 mm
1,475 mm
1,765 – 1,910 mm
3,395 mm
1,475 mm
1,815 mm
The summarized specifications of Honda Acty Truck, Suzuki Carry and Subaru Sambar
Honda Acty Truck vs Suzuki Carry vs Subaru Sambar: Dimensions & Exterior
Dimensions
In terms of dimensions, we can see that all 3 cars are pretty similar in size. With the Honda Acty Truck, the general length, width, and height will be 3395 mm, 1395 mm, and 1745 mm, respectively.
Suzuki Carry has a length of 3,395 mm, a width of 1,475 mm, and a height of 1,765 – 1,910 mm, depending on the trim model. As for the Subaru Sambar, the number is 3,395 mm wide, 1,475 mm long, and 1,815 mm high.
Looking at the size figures above, we can see that the Honda Acty truck has a somewhat smaller size. While the other two models, Suzuki Carry and Subaru Sambar, are a bit taller and wider.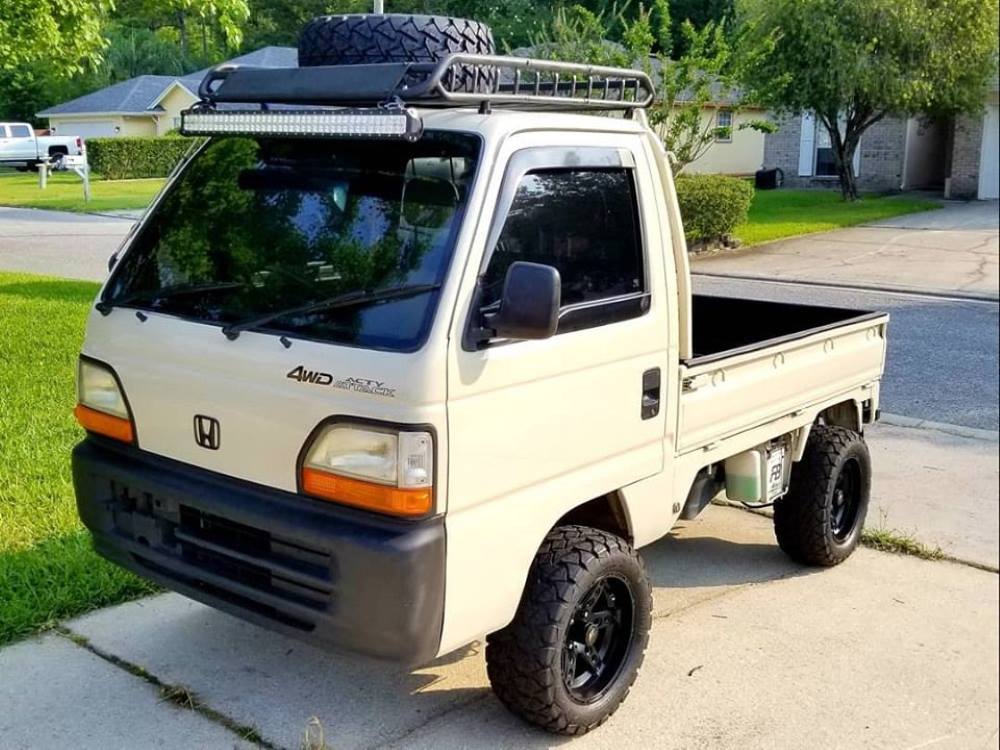 Overall, if you want a compact and agile truck, you can go for the Acty, and if you fancy a bit more comfortable space, you can choose the other two models.
Exterior
The outstanding Honda Acty models from 1993 to 2009 come with bigger and square-shaped headlamps setup and a longer wheelbase.
It offers a loading platform of 1,940 millimeters in length and 1,410 millimeters in width, while the body is painted with anti-corrosive wax that can prevent the whole part from getting rust.
Acty's carrying bed was quite spacious. You can easily lie it flat and open the bed's back door. In addition, the engine is located underneath the bed, making this a worth-considering mid-engine truck.
On the other hand, Suzuki Carry has also had a few improvements throughout the years. However, its most highlighted feature is always a slim and compact body design that is easy to maneuver into a small or congested road.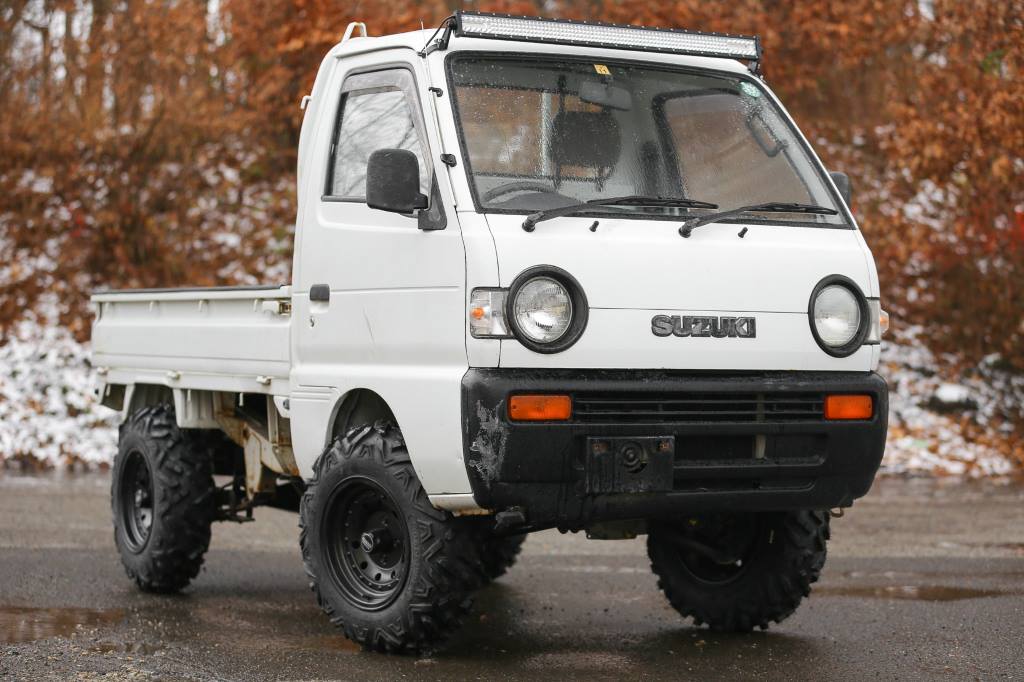 Moreover, the styling was also changed for every new Carry generation, with the lowest profile trucks having classic round headlights, while higher-quality models have narrower rectangular ones.
At last, the Subaru Sambar, which looks more spacious than the Honda Acty truck at first but is still small and convenient, offers some variants as standard and a high roof height. What's more, it has powerful and super light-beamed headlights.
And when sitting in the Sambar's cabin, you'll find the large front picture window looks like a scaled-down version of what you'd get on a big bus on the freeway.
The bed, mounted above the engine, is surprisingly handy in size and can be loaded from the sides or rear. It can also be converted to a flat carry bed by dropping all three sides.
For their wheels, the Suzuki Carry and Subaru Sambar both use a set of 13 to 14 inches, while the Honda Acty, or nonetheless to say, all three can get a smaller set of 12-inch wheels but is still available for 13-inch ones.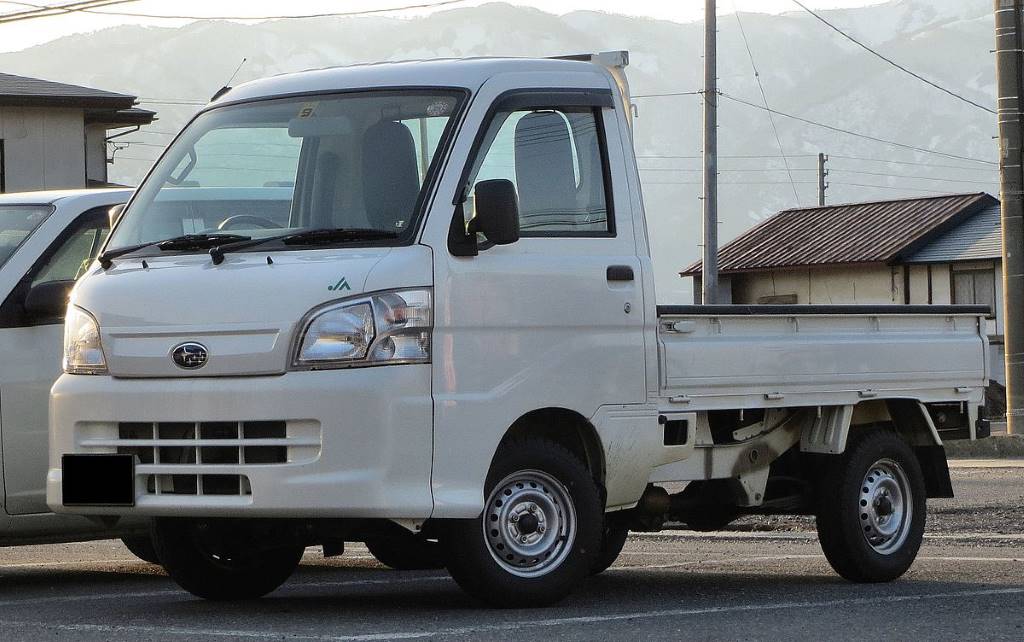 Honda Acty Truck vs Suzuki Carry vs Subaru Sambar: Interior
The size and interior of the 3 cars may have helped you to come to a lighter decision. Let's get to know the interior to see if you want to change your mind about your favorite Kei truck.
If the Honda Acty truck is your choice right now, you can enjoy features like the spacious and comfortable cabin with tons of legroom for passengers.
The Acty truck is an effective industrial vehicle aimed at customers with limited budgets. However, basic luxury amenities, including air conditioning and power steering, are available in all models.
In addition, you can choose from several decoration packages and several custom packages. This truck is also equipped with a high-visibility steering wheel, making it easy to control while driving and giving drivers the most comfort they desire.
Coming up on the wishlist is the Suzuki Carry with a basic but comfy interior using quality equipment. You'll find everything you need, including electric power steering, and a single speaker. In addition, there are also fully padded seats with vinyl coating.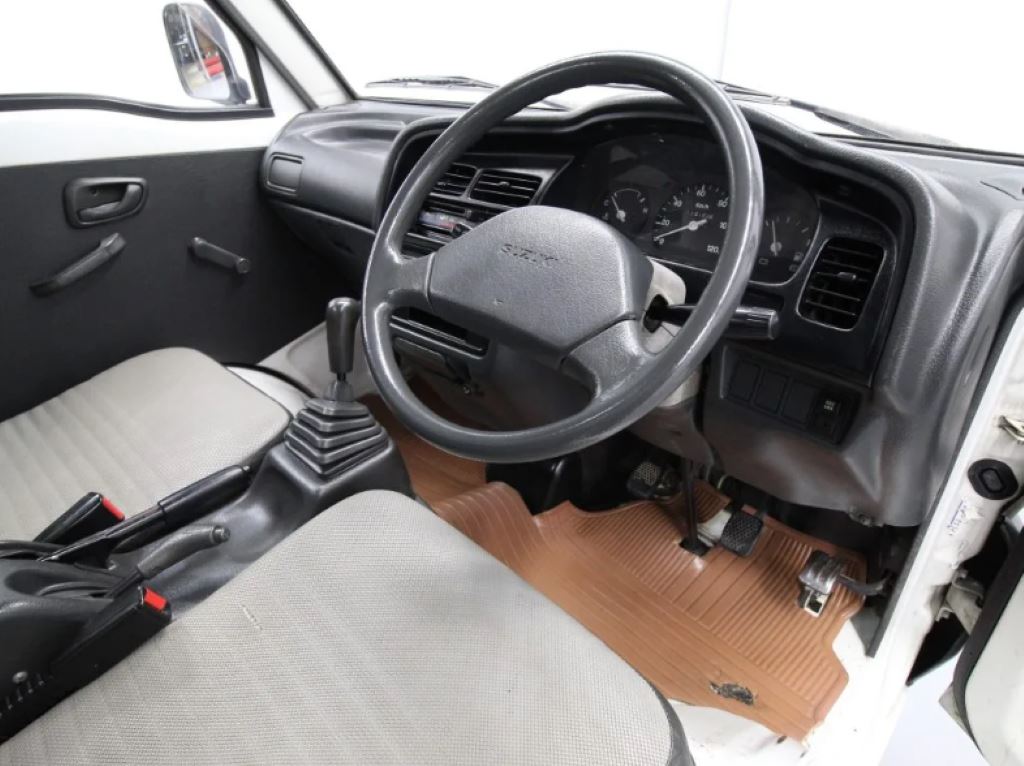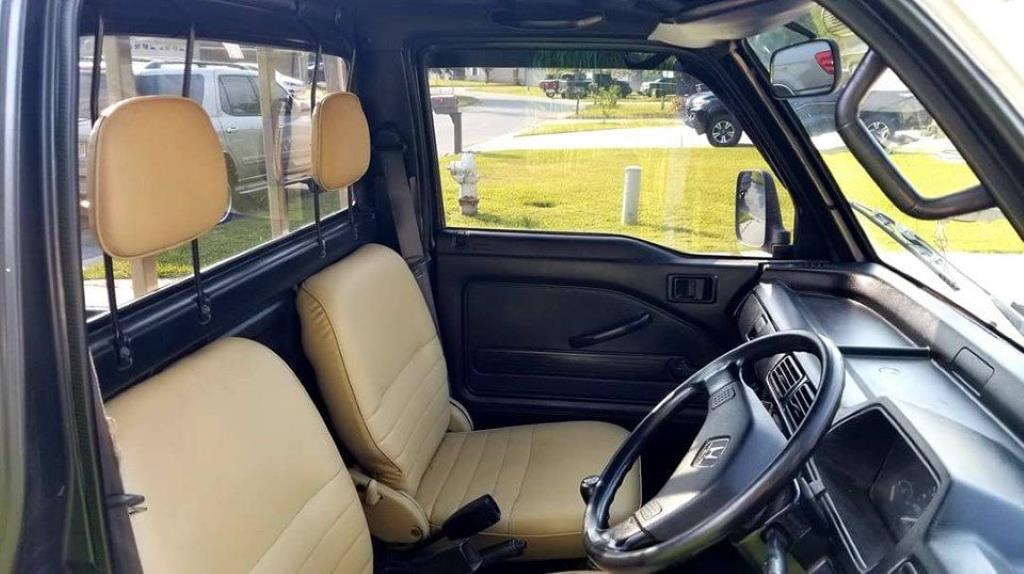 And lastly, the Subaru Sambar's interior may be everything you could ask for in a compact pickup truck for everyday comfort driving and easy loading.
The latest Sambar trucks come with a collision avoidance braking system and several sensors to keep a safe distance from the vehicle in front. These sensors also support driving comfort features such as adaptive cruise control, lane keeps assist, and lane departure warning.
They are also equipped with a power rearview mirror, Apple CarPlay and Android Auto and the latest Daihatsu Connect features allowing you to connect your phone to the infotainment system for a seamless experience.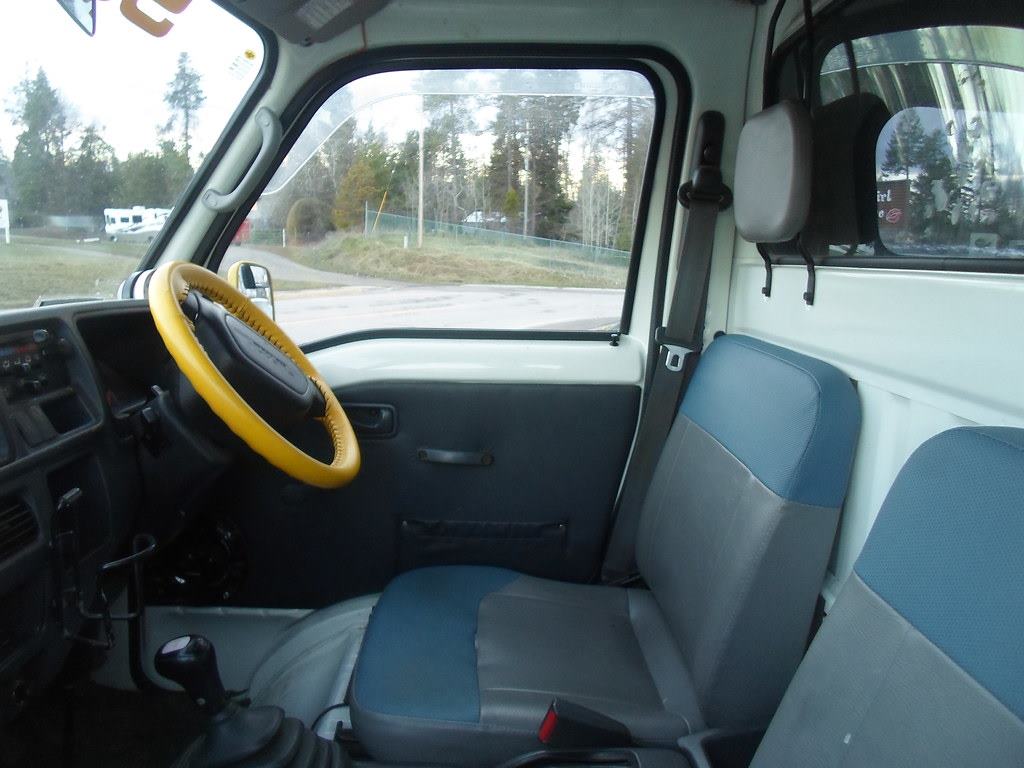 Honda Acty Truck vs Suzuki Carry vs Subaru Sambar: Engine
In terms of engine, the Honda Acty truck maintains a mid-ship layout, where the engine is located behind the cabin below the carrying bed. It is powered by a 656cc E07Z SOHC three-cylinder with 45 PS of power, 59 Nm of torque, and 350 kg payload.
The Acty has 2-wheel and 4-wheel drive systems with chassis codes HA8 for 2WD and HA9 for 4WD.
The Suzuki Carry has a mid-range, rear-wheel-drive/four-wheel-drive front-engine layout with a 658cc R06A DOHC three-cylinder petrol engine with variable valve timing and an output power of 37 kW at 5700 rpm.
In 2019, a much larger engine was created, it is the K15B-C 1.5L (1,462cc) in-line 4-cylinder petrol engine with 71 kW of power and torque at 4,400 rpm, 5-speed manual transmission.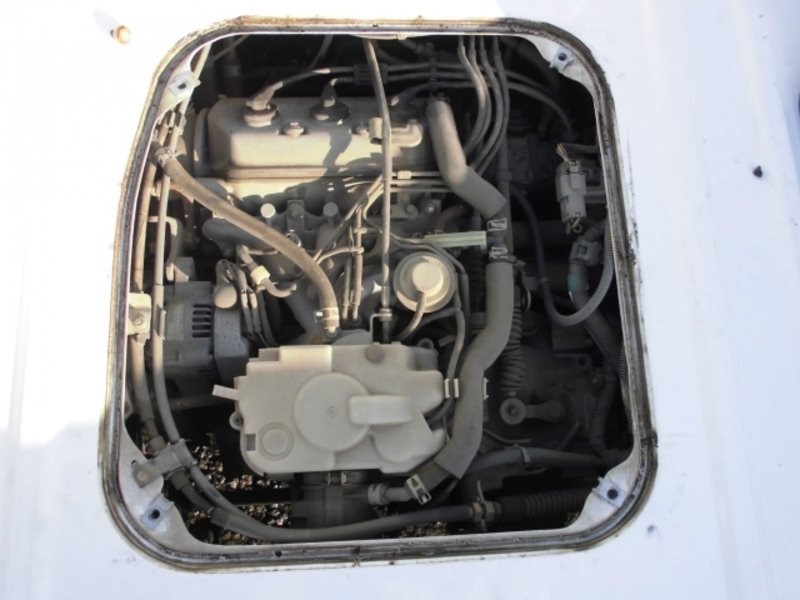 With the old-gen Subaru Sambar, we can see the backbone of the truck is the 658cc DOHC engine, which delivers an impressive 46–53 psi of power and 54–64 nm of torque.
The engine provides enough power for city driving and light cargo, but can be difficult on the highway or when carrying super heavy loads. Moreover, the truck is available with a 3-speed automatic transmission or a 5-speed manual transmission.
As per the output figures above, the Suzuki Carry may be the most powerful model. It is then followed by the Subaru Sambar and the Honda Acty Truck.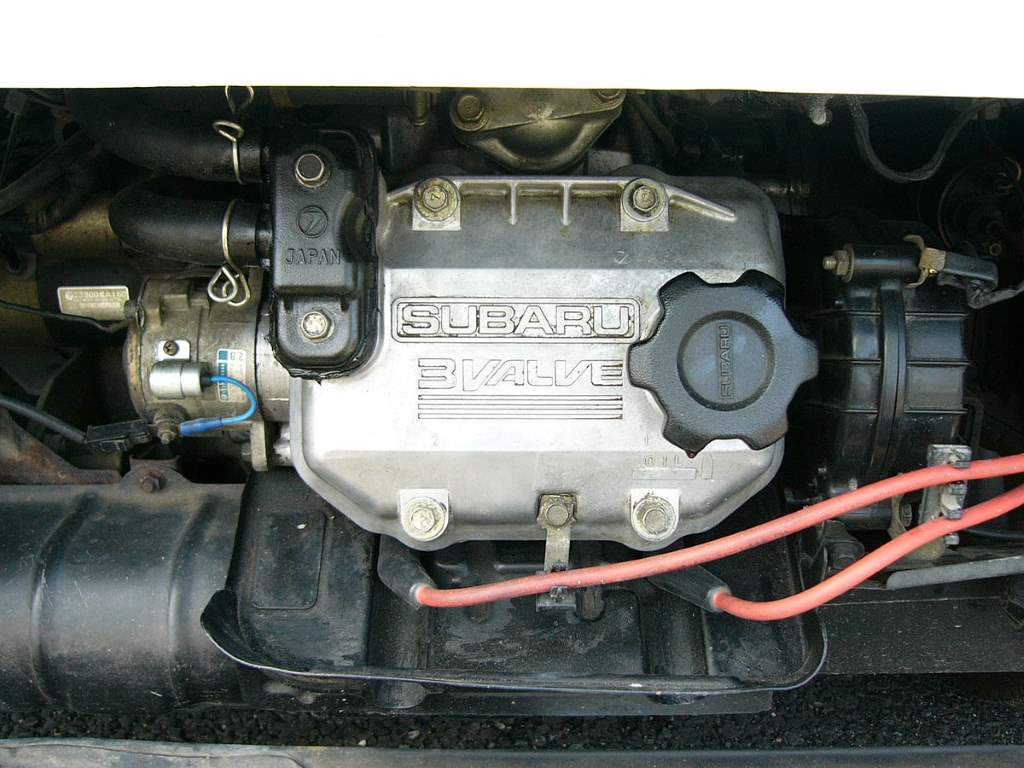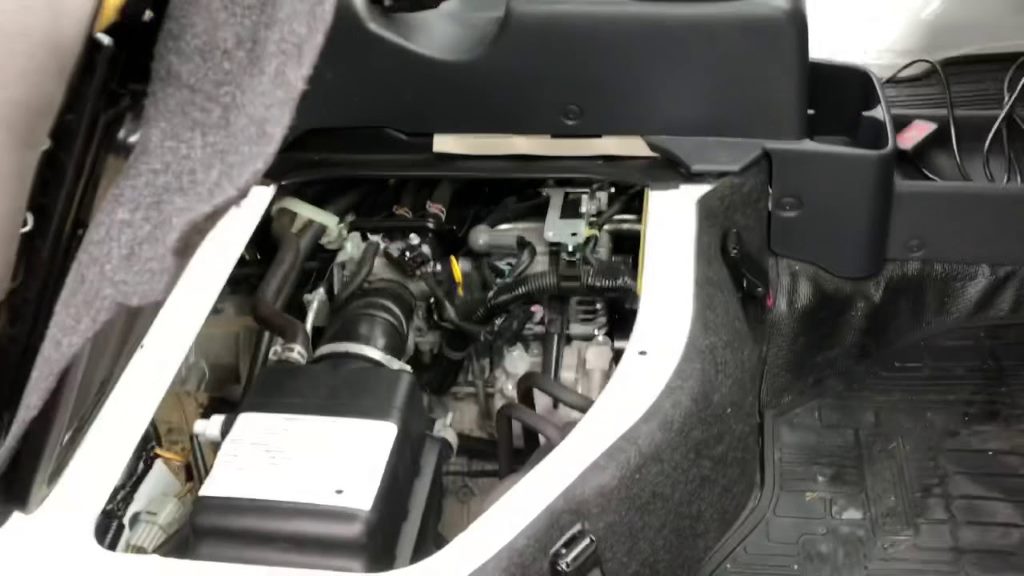 Honda Acty Truck vs Suzuki Carry vs Subaru Sambar: Safety
Regarding safety features, the Honda Acty comes with airbags in all models. It also has brake assist and lock braking system ABS, so you can rest free so that you and your loads will be safe on the road.
The Subaru Sambar has multivariable vehicle stability control and ABS. It also has an airbag system with a dual-stage of development. And there is an advanced security system, including cruise control checks and mid-lane assist.
A rearview mirror with rear parking sensors is also equipped to further assist with easy driving and parking. Other safety features include high beam assist and sign recognition.
And the Suzuki Carry, with basic seatbelts, a steering lock, and an immobilizer, can partly comfort you on any journey. There are also dual airbags for the drivers and the passengers on the side.
Maybe you can not rest assured that the Suzuki Carrry will fully protect you on the road. However, the safety of every ride mostly depends on your driving skill and ability. So please always be well-aware when facing the road!
Honda Acty Truck vs Suzuki Carry vs Subaru Sambar: Pricing
Directly imported from Japan, you can own one of three models shipped to your places with the price tag listed below.
| | | | |
| --- | --- | --- | --- |
| Used Model | Honda Acty Truck | Suzuki Carry Truck | Subaru Sambar Truck |
| Price | $900 to $7,500 | $1,300 to $7,600 | $1,500 to $10,000 |
Honda Acty Truck vs Suzuki Carry vs Subaru Sambar: The price tag
Conclusion
We have scrolled through the head-to-head comparison of the Honda Acty Truck vs Suzuki Carry vs Subaru Sambar. Hope this piece of info is insightful enough to help you make up your mind about the best mini JDM pickup trucks for your needs and job every day.
Popular posts
---