Buy Japanese cars from home
Suzuki Cappuccino 1998 For Sale
(2 results)
Popular Models
Featured Links
Total price (C&F)
US $11,337
FAQ about Suzuki Cappuccino 1998
How much does a used Suzuki Cappuccino 1998 cost?
The price of Suzuki Cappuccino 1998 is around $12,822. This doesn't include the shipping cost to your port.
How to import Suzuki Cappuccino 1998 from Japan to the USA?
You can follow
these easy steps
to purchase a Suzuki Cappuccino 1998 from JDM Export and have it imported to your port in the USA.
What are the import taxes for used cars in the USA?
You should expect to pay 2.5% for a passenger car, and 25% for a truck as the tax of foreign-made vehicles imported to the U.S. This is calculated based on the vehicle price.
User reviews on Suzuki Cappuccino 1998

Alec Stewart

USA
It's very reassuring that I received a response at all, let alone a friendly one. Kudos.

Timothy Prior

USA
Hello Mr. Ken, A picture of the car is attached
After Delivery Pictures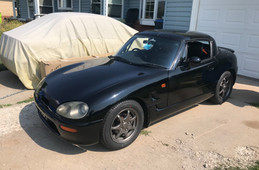 Havana Aguilar

USA
love it

Havana Aguilar

USA
i love love love shopping on this website and i really wanna get something soon so i'm on it like multiple times a day

David Crundwell

USA
Haven't bought a vehicle yet but all communication so far has been excellent.

Nicholas Womack

USA
Very personable.

Micheal tompkins hr

USA
Excellent customer service

Adrian

USA
The reply and communication needs to be alot faster. There have been many vehicles i have inquired over and by the time I receive a response to my questions, the vehicle is sold. It takes way too long to respond.

Benjamin Gibbins

USA
Car received!

Gene Stiajkine

USA
Received requested information very quickly!